OpenStage Manager
The Wiki of Unify contains information on clients and devices, communications systems and unified communications. - Unify GmbH & Co. KG is a Trademark Licensee of Siemens AG.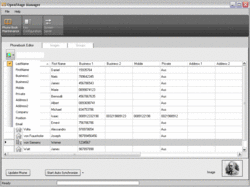 The OpenStage Manager is a powerful PC application for OpenStage 60/80 telephones (SIP/HFA/TDM), developed to extend and share some phone features between your Personal Computer and your OpenStage phone via IP or USB.
Overview
The OpenStage phone user needs information to successfully connect the phone to the OpenStage Manager:
phone IP address (as example: 192.168.20.100)
phone DNS domain (if available on the customer network).
phone password
Once connected, the user must perform login access to his / her phone using the phone password.
OpenStage Manager allows:
Phone book maintenance

Phone contacts management
Images management (.png image file format)

Synchronization of OpenStage phone book contacts, either automatically or manually:

from Microsoft Outlook
to Microsoft Outlook
in both ways

Phone data backup on your PC.
Configuration of various phone settings from your PC, including:

Free Programmable Keys (FPK) (OpenStage SIP only)
Ringtone management
OpenStage display Screen Saver
Documentation
Features
OpenStage Manager features in detail.
Phone book
Synchronize your personal Outlook contacts with the built-in local telephonebook (incl. pictures).
Screen Saver
Download your individual pictures to your phones and they are shown on the phone's display when entering the screen saver mode (similar to an electronic picture frame).
Individual Ringer tones
Here are some examples for MP3 ringtones (Pop, Rock, Latin, Reggae, Jazz):   OpenStage Ringertones.
Requirements
Hardware
Computer Hardware Requirements

CPU x86 or comparable Min. 1 GHz
RAM Min. 512 MB
Hard disk space Min. 75 MB
Client / User PC hardware requirements
Software
Supported Operating Systems

Microsoft Windows 2000 (Prof) Service Pack 4
Microsoft Windows XP 32 bit (Home/Prof)Service Pack 3
Compliant Software supported

Microsoft Outlook 2003 Service Pack 3
Microsoft Outlook 2007 Service Pack 2
Microsoft Windows Vista 32/64 bit Service Pack 2 (OSM >= V2 R1.2.0)
Microsoft Windows 7 32/64 bit (OSM >= V2 R1.2.0)
Software Delivery
The current OpenStage Manager software release is V2 R2.2.0.
Due to export restrictions you can get this software only by your responsible sales representative or by SEBA partner portal.

To get an overview of current and previous release notes (if any) of OpenStage Manager V1 see the complete Release Notes history.
See also
Show SIP related
|
Show HFA related
|
Show TDM related