OpenStage 10 T
The Wiki of Unify contains information on clients and devices, communications systems and unified communications. - Unify GmbH & Co. KG is a Trademark Licensee of Siemens AG.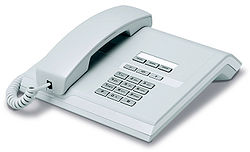 The phone OpenStage 10 T is part of the OpenStage phone family. It can be used in a HiPath 500, HiPath 3000 or HiPath 4000 environment as a TDM telephone.
Key Features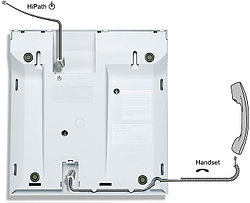 Standards
Housing, Control elements
3 programmable feature keys
Volume keys (Loudspeaker/+/-)
Keypad with 12 keys
3 red LEDs for key signalling
Various housing colors (ice blue, lava)
Key Labelling
To label the function keys of this telephone you can use the Key Labelling Tool.
See also
Key Labeling Tool
Labeling Tool in English
Tool zur Tastenbeschriftung in Deutsch
Show SIP related
|
Show HFA related
|
Show TDM related