optiPoint 410/420 S firmware upgrade procedure
The Wiki of Unify contains information on clients and devices, communications systems and unified communications. - Unify GmbH & Co. KG is a Trademark Licensee of Siemens AG.
This is a more detailed explanation of how to execute a firmware upgrade on optiPoint 410/420 S phones.
For a common description see optiPoint 410/420 S upgrade to SIP V6.0.
Preparation
Place the optiPoint SIP application file in the server's download directory (or respective sub-directory). The file extenstion is usually *.app
Make sure that the LAN cable (and if appicable, the external power supply) is connected properly to the phone. The process of programming the new SW image must not be interrupted.
Upgrade via web based management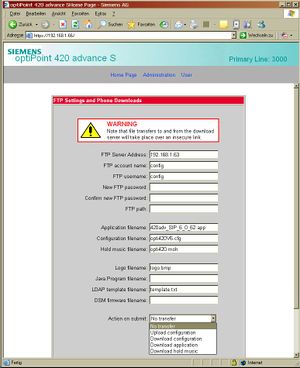 You may read the IP address from the local phone menu and use this to switch over to the WBM by using a web browser.
When you have logged in as an administrator, select the file transfer menu and provide the data to access the FTP server hosting the SIP application file.
FTP server IP address or FQDN.
FTP server account.
User name and password.
Path (if the file to download is not located in the root/standard directory of the FTP server).
The file name of the SIP application.
Select "download application" from the drop down menu and initiate the download with submit. If you just would like to save the settings without further action, you may select "no action" in the drop down menu instead.
You may now have a look to the phone's display to watch the file download progressing:
Web update (if the download was triggered via WBM)
Warning: Restarting Loading new application (The phone performs a restart to boot in an update mode)
Getting File (the file is being downloaded to the phone)
Programming Image / Please Wait (a progress bar is shown on the display like #####)
File Transfer Successful
The phone performs a reboot and starts up with the new application SW but unchanged configuration parameters.
Coming soon.
Trouble shooting
If the downloading fails you may check for:
The application file is existing? (If not the display will show Error: No File existing)
The application file is placed in the correct directory?
Remember that file names are case sensitive on UNIX servers
The FTP server settings permit a file download?
The FTP server settings and the account data entered in the WBM are matching?
No firewall settings on the PC are blocking the FTP services?
The application file provides to correct software image for the phone model (otherwise the display shows wrong image)
See also