OpenStage WL3
The Wiki of Unify contains information on clients and devices, communications systems and unified communications. - Unify GmbH & Co. KG is a Trademark Licensee of Siemens AG.
| | |
| --- | --- |
| | OpenStage WL3 V1R1.2 |
|   | HTTPS to access the handset web pages |
|   | Secure calls via OSCAR |
|   | Manual restart from the Device manager (PDM or WSG) |
|   | SNMP MIB |
|   | Java 7 support for different applications running on the WSG |
| | Complete content, please click here |

The OpenStage WL3 telephones are an advance variant of telephones for mobile workplaces that use WLAN technology for transmission. These telephones can be deployed in environments with the appropriate SIP platforms and use WLAN infrastructure which supports the dominant infrastructure standards IEEE 802.11a/b/g/n. In addition to the predecessor product the OpenStage WL3 supports now not only wireless telephony, but also messaging and alarming as options.
The OpenStage WL3 family consists of:
the handsets: OpenStage WL3 and OpenStage WL3 Plus
the tools: Portable Device Manager (PDM) and Wireless Service Gateway (WSG)
different chargers and accessories
Communication with the platforms is enabled through SIP.
Key Features
The following information provides an first overview. This list is not exhaustive. Please refer to the detailed operating instructions for more information.
Portfolio Elements
The OpenStage WL3 handset family consists of two telephone models:
the OpenStage WL3 is the entry telephone for VoWLAN telephony,

an additional message license can be applied to this telephone to benefit from the advanced messaging functionality

at the top of the product offering stands the OpenStage WL3 Plus, it offers not only VoWLAN telephony, but also messaging and personal alarm functionality.
Description of Features of the OpenStage WL3
Physical
Weight: 135 g
Color: Black
Dimensions (l × w × d): 134 × 53 × 26 mm
Display size (w × h): 28 x 35 mm
Battery Type: Li-polymer, 930 mAh
Connector
Multi-purpose connector for battery charging, software download and configuration
Headset connector: 2.5 mm cinch connector
User interface
Display:

TFT display with multiple colors with high resolution
65,000 colors, 176 × 220 pixel LCD
white LED backlighting
Display languages: Multi Language User Interface in 18 languages, those are: Czech, Danish, Dutch, English, Finnish, French, German, Greek, Hungarian, Italian, Norwegian, Polish, Portuguese, Russian, Slovak, Spanish, Swedish and Turkish + 1 customizable language
Buttons/Keypad
12 dial keys (3x4): 0-9, # and *
3 Soft keys for dynamic feature access
Off-hook key
On-hook and Power On/Off on the same key
Five way navigation key
Sound off/Mute side key
Volume button up/down side key
Multifunction button at the top
Hot keys ("0", "2" - "9") for fast feature access
Audio
Ring signal: Adjustable in 8 steps and silent
loudspeaker function
Hearing Aid Compatible (HAC)
Phonebook options
Local Phonebook:

Maximum 200 entries
Selectable ring tones per contact

Company Phonebook:
Central Phonebook:

Access to LDAP (WSG required)
Telephony
Indication: 14 ring signals, flashing LED and Silent Alarm (vibration)
Call list storage capacity: 25 calls (call received, dialed and missed) with time stamp
Voice codecs: G.711 A-law (EU), G.711 u-law (US), G.729, G.729A, G.722
SIP registration to a SIP proxy/registrar
Messaging1

Interactive messaging (telephone user can reply messages)
Colored messaging to prioritize messages
Maximum message length: 160 characters sent from OpenStage WL3
Storage capacity: 30 received/sent messages
Alarm2

2 push button alarms
Man-down alarm
No-movement alarm
Acoustic Location Signal
Location of the Handset via OSCAR
Radio Specification
Receiver sensitivity (typical values):

-87 dBm (802.11a, 6Mbps), -93dBm (802.11b, 1Mbps),
-87 dBm (802.11g, 6Mbps), -86 dBm (802.11n, MCS0)

Frequency range:

EU:
b/g: 2.4–2.4835 GHz (Ch 1–13) and
a: 5.15–5.35 GHz (Ch 36–64), 5.47–5.725 GHz (Ch 100–140)
USA/Canada:
b/g: 2.4–2.4835 GHz (Ch 1–11) and
a: 5.15–5.35 GHz (Ch 36–64), 5.47–5.85 GHz (Ch 100–165)

Maximum output power:
Modulation speed:

b: 1, 2, 5.5, 11Mbps
a, g: 6, 9, 12, 18, 24, 36, 48, 54Mbps
n: MCS0-7
802.11h (DFS, TPC)
Protocols
TCP/IP
IP addressing: DHCP, fixed
Configurable DSCP
DNS support (primary/secondary)
SIP/RTP
SIP over UDP/TCP
SRTP/TLS (SDES RFC4568)
SNMP
SIP Survivability Features
Support of Outbound Proxy
DNS Administration
Support of DNS SRV
SIP Notify Messages
WLAN
Number of IP networks:

4 systems, auto selection or manual selection
Quality of Service (QoS)
WMM
TSPEC-based Call Admission Control (CAC)
Supported WLAN networks
802.11 a/b/g/n (MCS0-7, 20 MHz, 800nS GI)
WLAN- Security
Security standard: 802.11i
Encryption methods: 64/128 bits WEP, TKIP, AES-CCMP
Authentication methods: 802.1X

Original 802.11 open/shared key authentication
WPA-PSK
WPA2-PSK
PEAP-MSCHAPv2
EAP-TLS
EAP-FAST
WLAN- Roaming enhancement
Pre-authentication
Opportunistic Key Caching (OKC)
PMKSA caching
CCKM
Enclosure Protection
Headset Connector
2,5 mm phone jack (Mono)

Jabra Biz-2400 3in1/Duo
Jabra GN 2000 Duo
Jabra BIZ 1900 Mono/Duo
Hearing Protection 2.5 Peltor DTX-9018
Accessories
Leather case
Swivel-type clip
Security cord
Desktop charger, AC adapter (by geographical region)
Desktop Programmer (via USB) with Portable Device Manager
Charging rack for phones and batteries, each with 6 slots
Additional Features
Time and date indication
Customized GUI
4 Profiles to quick change of WLAN settings
Easy replaceable battery
Name display in call list
Clear lists in charger
Manual and automatic keypad lock
integrated Site survey tool
1 This feature is available for OpenStage WL3 including messaging license and for the OpenStage WL3 Plus
2 This feature is available for the OpenStage WL3 Plus
SIP Feature set with different platforms, see this link.
Description of Features of the Portable Device Manager (PDM)
The PDM is an optional management tool for OpenStage WL3 telephones. It is a software application that runs on a local Windows PC. It has a Java-based Graphical User Interface (GUI) and a database containing parameters specific for each of the OpenStage WL3 telephones used in the system. Examples of parameters are WLAN system parameters and VoIP service parameters. The PDM also enables firmware upgrades. Before an OpenStage WL3 telephone is able to access the WLAN and any services, it must be configured with WLAN system specific parameters, for example the SSID (network identification). The parameters are synchronized with the OpenStage WL3 telephones via a USB cable connected to the OpenStage WL3 Desktop Programmer. The PDM Software itself is free of charge and is via the usual Software supply services available (e.g. via Unify Partner Portal; formerly SEBA), please look for OpenStage WL3.
Description of Features of the Wireless Service Gateway (WSG)
The Wireless Service Gateway (WSG) is an optional web-based appliance used for device management, messaging and alarm handling. The OpenStage WL3 telephones needs a basic parameter setup with the PDM, which are basic WLAN and IP settings, to be able to communicate with the WSG. Thereafter the WSG can be used to remotely and wirelessly edit parameters and update software of the OpenStage WL3 telephones. It saves the parameters and software for all OpenStage WL3 telephones in a database with the maximum capacity of this data base being 2.500 OpenStage WL3 telephones.
The WSG is also required if LDAP access from the OpenStage WL3 telephones and interfaces to the alarming/messaging Server OSCAR are required. The OpenStage WL3 telephones must log on to the WSG to enable the messaging and alarm functions.
Each OpenStage WL3 has also an own configuration menu. This menu can be used as simple option for single handset configuration.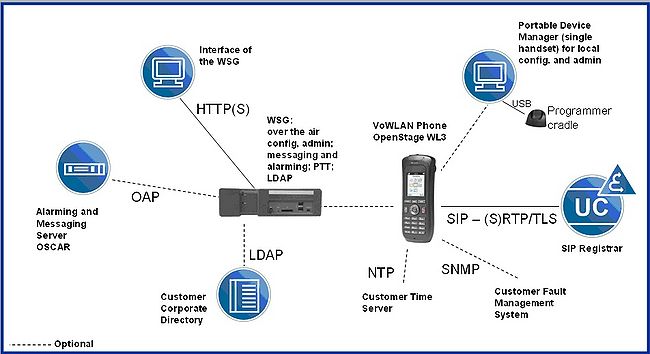 Connectable Devices
The OpenStage WL3 were tested with the following systems:
OpenScape Office, from V3
HiPath 3000, from V9
OpenScape Business, from V1
OpenScape Voice, from V6
HiPath 4000, from V5
The interface for the solution in the platforms is SIP. One SIP user is required in the platform for each OpenStage WL3 telephone; please remember the necessary SIP user licenses in the platforms mentioned above. For enabling messaging and alarming the OpenScape Alarm Response Professional (OSCAR), from V3 is required. The OSCAR needs an Open Access Protocol License (OAP) for the connection to the solution.
The following WLAN infrastructure was successfully tested, please click here:

  OpenStage WL3 WiFi interoperability overview
New Feature Content
WL3 V1R1

Easy Deployment
Centralized certificate management
WL3 supports secondary WLAN controller (back up)
Indication of secure calls by lock symbol
Distinctive ringing for Emergency calls
Complete content, please click here
Documentation

Information
Documentation
Firmware / Software
The SIP firmware provides encryption capabilities. Hence its distribution must follow legal requirements which do not allow unrestricted SW distribution via the Internet. The firmware is only provided by Unify technicians or by authorized Unify Partners. Customers with self-care contracts will have access to SW within the Partner Portal Web Portal (login required).
The Application software of the OpenStage WL3 can be transferred to the phone:
Interoperability Matrix
For detailed interoperability information please check the OpenStage WL3 interoperability matrix page.
Current software releases
OpenStage WL3 / WL3 Plus
The current application software of OpenStage WL3 / WL3 Plus is OpenStage WL3 V1 R1.4.0 (6.0.7).
OpenStage WL3 WSG (Wireless Service Gateway)
The current application software of OpenStage WL3 WSG (Wireless Service Gateway) is OpenStage WL3 Wireless Service Gateway V1 R1.4.0 (4.4.2).
OpenStage WL3 WinPDM (Windows Personal Device Manager)
The current application software of OpenStage WL3 WinPDM application tool is OpenStage WL3 WinPDM V1 R1.0.0 (3.11.0).
French language pack for Win PDM:

  WinPDM French language version
For installation instruction, pls. check

  OpenStage WL3, Portable Device Manager WinPDM, Installation and Operation Manual, chapter 4.1.4
End User License Agreement (EULA) and Open Source Software (OSS)
You can find the End User License Agreement (EULA) and the Open Source Software (OSS) used in the OpenStage WL3 portfolio by clicking here.
Information
more information to the handset portfolio from Unify
See also