optiPoint application module
The Wiki of Unify contains information on clients and devices, communications systems and unified communications. - Unify GmbH & Co. KG is a Trademark Licensee of Siemens AG.
The optiPoint application module is a powerful add-on module with colour touch screen (320x240 pixel, 4096 colors) and an alphanumeric keyboard. The module can be connected to different phones of the optiPoint family.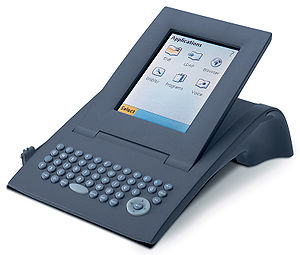 Documentation
Compatibility
The optiPoint application module is compatible with the telephones shown in the table below. IP-phones (410 / 420) support the full range of applications, the optiPoint 500 models just the electronic notebook. A local power supply unit is required for the module.
Basically two sorts of applications are supported:
Built-in application
The "most-wanted" office applications on telephones
ENB (electronic notebook) - local telephonebook
Voice-dialing - dialing by just saying the name
LDAP - access your corporate directory
Built-in application platforms
These three technologies offers a convenient way to access public information/application in the internet or your corporate network or provide your own specific business applications on your phone.
XML, WAP/WML and Java are technologies on which 3rd party application developers area can provide useful business applications on Siemens IP-phones.
Supported plattforms
AI: TDM phones brauchen einen betsimmte patch, dass muß hier drin stehen
Firmware
optiPoint FW mit XML-suppport
HW Abhängigkeiten?
FW Version in APM
Applications
WML applications / WAP Browser
The WAP browser provides access to information in internet and your company intranet.
The WAP applications are not available with optiPoint 500 phones.
LDAP
Locate a calling party in your corporate directory and dial this party's station number directly. The LDAP application ist not available with optiPoint 500 phones.
Display configuration
You can adjust the display settings (brightness, contrast, password protection) for your optiPoint application module.
Documentation
How To
See also
e-flyer optiPoint application module