OpenStage Wandhalterung V2
The Wiki of Unify contains information on clients and devices, communications systems and unified communications. - Unify GmbH & Co. KG is a Trademark Licensee of Siemens AG.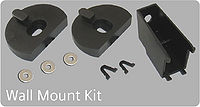 Die neue OpenStage Wandhalterung V2 wurde so konzipiert, daß sie problemlos über dem US amerikanischen Wall plate montierbar ist.
Mit dieser OpenStage Wandhalterung können folgende Telefone an der Wand befestigt werden:
Weiterhin ist sichergestellt, daß der Ablesewinkel bei den Geräten mit nicht verstellbarem Display (OS 15 und OS 30T) sehr viel besser als zuvor beim alten Wall Mount Kit ist. Die neue OpenStage Wandhalterung erfüllt auch die ADA (American Disabilities Act) Anforderung, nach der das an der Wand montierte Telefon maximal 4" (101,6 mm) von der Wand wegstehen darf.
| | | | |
| --- | --- | --- | --- |
| OpenStage 10/15/20/30/40 | eis-blau | CUC 266 | L30250-F600-C266 |
| OpenStage 10/15/20/30/40 | lava | CUC 267 | L30250-F600-C267 |

Das OpenStage Wall Mount Kit V2 ist Teil des OpenStage Zubehörs.
Der Vorläufer der Wandhalterung ist das OpenStage Wall Mount Kit V1.
Dokumentation
Die OpenStage Wandhalterung wird mit einem gedruckten Dokument geliefert, das alle erforderlichen Informationen zur Installation beinhaltet.

  OpenStage Wall Mount Kit V2