OpenStage Wall Mount Kit V2
The Wiki of Unify contains information on clients and devices, communications systems and unified communications. - Unify GmbH & Co. KG is a Trademark Licensee of Siemens AG.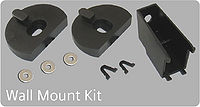 The new OpenStage Wall Mount Kit V2 fits the physical requirements (standard telephone sockets / plates) in the United States of America. This way it meets the US standard regarding positioning of the kit itself.
With this OpenStage Wall Mount Kit you can mount the following telephones on a wall:
Advantage: Compared with the so-far-existing OpenStage Wall Mount Kit better readability of the OS 15 and OS 30 (those have non-tilt able displays) is granted. The new wall mount kit also adheres the ADA (American Disabilities Act) requirement: The wall mounted phone must have a distance of no more than 4" off the wall.
| | | | | |
| --- | --- | --- | --- | --- |
| Device | Color | CUC | Order Number | Spare Part Number |
| OpenStage 10/15/20/30/40 | ice blue | CUC 266 | L30250-F600-C266 | L36363-A465-C591 |
| OpenStage 10/15/20/30/40 | lava | CUC 267 | L30250-F600-C267 | L36363-A465-C593 |

The OpenStage Wall Mount Kit V2 is part of the OpenStage Accessories.
The predecessor of this wall mount is the OpenStage Wall Mount Kit V1.
Documentation
The OpenStage Wall Mount Kit is shipped with a printed document providing all information needed for installation.

  OpenStage Wall Mount Kit V2