OpenStage Bluetooth
The Wiki of Unify contains information on clients and devices, communications systems and unified communications. - Unify GmbH & Co. KG is a Trademark Licensee of Siemens AG.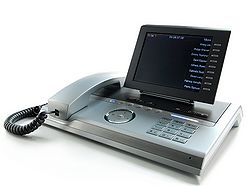 With Bluetooth on OpenStage you have the ability to connect your OpenStage 60/80 telephone with your mobile phone and send vCards, or connect a headset and use it.
Administration
Administration of the Bluetooth feature is available in WBM and in the phone menu. To use Bluetooth, it has to be activated in the administration menu.
Further settings are available in the user menu.
| | |
| --- | --- |
| | |
| Phone menu > Settings > User > Configuration | > Bluetooth > Configuration |
Enter the User menu and go to Configuration and select the menu item Bluetooth.
There you can find the menu items Configuration, Paired devices and Blacklist.
In the Configuration you can choose necessary settings, you can activate Bluetooth and make the phone discoverable or change the name of the phone and you can decide how the phone pairs with other devices.
On Paired devices you can see the device which where connected to the phone and add new devices on this list. The Blacklist is to block device, so that they can't connect to the phone.
WBM
| | | | |
| --- | --- | --- | --- |
| | | | |
| WBM > User Pages > User Configuration | > Bluetooth | Active, Discoverable and Pairing | Last connected device |
Select User Pages > User Configuration > Bluetooth
The Bluetooth-menu contains essential settings, which are needed to communicate with the phone via bluetooth.
To communicate with the phone you have to select Activate and Discoverable Options, so you can find the phone via Bluetooth. In Pairing Mode you can define, how the phone paires with another Bluetooth device. You have to enter a PIN for pairing, you will be prompted to enter the PIN on the connected Bluetooth device.
On last connected device you can see, which device was connected last to the phone.
Pairing a device
| | | |
| --- | --- | --- |
| | | |
| Phone menu > Settings > User > Configuration > Bluetooth > Paired devices | > Options > Pair device | List of Nearby Bluetooth devices |
To pair a device with the phone, enter the User menu, than Configuration and select Bluetooth, there choose Paired devices. There you select Options and open the context menu and choose Add device, then the phone will search Bluetooth devices which are nearby.
When the phone finishes the search, a list with all found devices will apear. On this list, you can select the device you want to connect to. Some devices need a pairing code which was set on the device, just enter the code and your phone get paired. Paired devices are on the pairing list now.
Learn more about pairing a Bluetooth headset by training video.
Using
Headsets with Headset Profile can be still used, Headsets with Hands Free Profile will be supported in the future.
Using wideband codec (G.722) together with Bluetooth headsets leads to extra noise. If possible, try to avoid the combination of G.722 codec and Bluetooth headsets.
vCard transmission
How to send and receive vCards see

  User Manual OpenStage 60-80 HFA HP3000-HP5000 on page 165.
Bluetooth headsets
See OpenStage Headsets.
How to use Bluetooth headsets with OpenStage phones see

  User Manual OpenStage 60-80 HFA HP3000-HP5000 on page 167.
See also
Show SIP related
|
Show HFA related
|
Show TDM related