OpenStage 60
The Wiki of Unify contains information on clients and devices, communications systems and unified communications. - Unify GmbH & Co. KG is a Trademark Licensee of Siemens AG.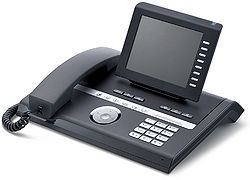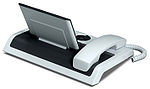 The phone OpenStage 60 is part of the OpenStage phone family. It can be used with SIP or HFA software.
This phone is also available as a Gigabit version with a 1000 Mbit Ethernet switch called OpenStage 60 G.
Key Features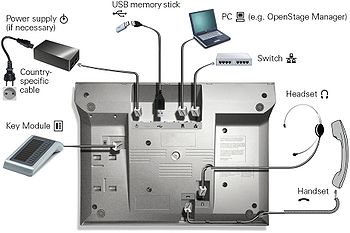 The OpenStage 60 uses AudioPresence™ HD.
Read more
Read more about new or hidden features on the OpenStage 60.
Standards
Supported Codecs:
Standard based SIP support according to RFC 3261 (with SIP software)
Full-duplex hands-free talking with high quality housing microphone and loudspeaker
Computer Telephony Integration (CTI), Third party call control
Applications, Administration
Remote administration:
Built-in applications:

Graphical call handling
Local Telephone book
Directory access (LDAP)
Call log/history
Phone help

External applications integrated into phone user interface:
Connections
2 ports 10/100Base-T built-in Ethernet switch (OpenStage 60 G: 1000 Mbit Ethernet switch)
USB Master for USB memory stick
Sidecar module support for OpenStage Key Module 60
Integrated head set jack
Bluetooth support
Power over Ethernet (PoE) according to IEEE 802.3af or external power supply (EU, US and UK power adapters)
Housing, Control elements
TouchGuide for navigation and feature control
TouchSlider for volume settings
8 free programmable sensor keys
6 fixed sensor keys for built-in applications
6 fixed function keys
Keypad with 12 keys
Blue call signalling LED
19 blue LEDs for key signalling
Various housing colors (ice blue, lava)
Alternative Fixed Key Label
In order to use your OpenStage 60 with the alternative fixed key programming (US configuration) you can use this label. Just print out, cut out and glue it on the phone.

| Symbol configuration | Label configuration |
| --- | --- |
| End (disconnect) call | Conference |
| Activate/deactivate call forwarding | Transfer |
| - (For future use) | Hold |
| Speaker | Speaker |
| Headset | Headset |
| Mute | Mute |
| Home | Home |
| Directory | Directory |
| Log | Log |
| Messages | Messages |
| Menu | Menu |
| Help | Help |
| Volume | Volume |
Certificates
End User Licence Agreement
Open Source Software
OpenStage Hardware Changes and necessary Software Versions
SIP V3R1

The support for this SIP version has been discon­tinued!
All OpenStage Open Source Software components V3R1
SIP V3R0

The support for this SIP version has been discon­tinued!
All OpenStage Open Source Software components V3R0
SIP/HFA
Update at M3 timeframe.
All OpenStage Open Source Software components
See also
Show SIP related
|
Show HFA related
|
Show TDM related