Difference between revisions of "OpenStage 40 US"
The Wiki of Unify contains information on clients and devices, communications systems and unified communications. - Unify GmbH & Co. KG is a Trademark Licensee of Siemens AG.
Line 25:
Line 25:
 
 
 

Other phone features are comparable to [[OpenStage 40]].

 

Other phone features are comparable to [[OpenStage 40]].

 
+
 
+
 
 
 

== OpenStage Training ==

 

== OpenStage Training ==
---
Revision as of 13:16, 16 February 2012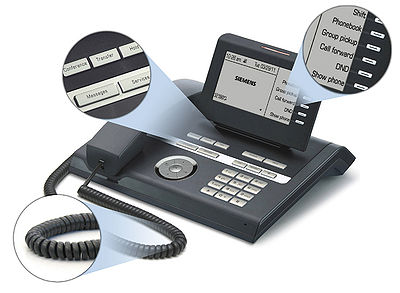 The OpenStage 40 US is a new edition of the OpenStage phone family. Some modifications to the OpenStage 40 SIP were made especially for the U.S. market.
To get the most important informations about these modifications fast and easy visit our OpenStage Training for the OpenStage 40 US.
Overview
The highlights of the modifications are:
| Hardware modifications | Software modifications |
| --- | --- |
| New Fixed Key labelling | New default configuration for Free Programmable and Fixed Keys |
| OpenStage Lifter option | US Time and date settings |
| Handset cord lengthening | US Language settings |
Other phone features are comparable to OpenStage 40.
In order to use an OpenStage 40 with the modified fixed key programming of an OpenStage 40 US you can use this label.
OpenStage Training
The media player is loading...
Instructor: Robert Arandjelovic, Product Marketing Devices
This section shows the Video Tutorials for OpenStage 40 US. For other OpenStage telephone trainings look here.
Video Training
Learning to use a feature-rich enterprise phone is a visual, interactive process that can be difficult to explain simply with words or diagrams.
As such, a series of brief videos have been prepared to provide a thorough explanation of how to best take advantage of the modifications on the OpenStage 40 US.
Simply click on the the Video link beside any of the features you would like to learn more about, and the relevant video will be streamed directly from your web browser.
Scenarios
| | | | |
| --- | --- | --- | --- |
| | OpenStage 40 US | Length | Content |
| Modifications overview | Video | 12:00 | Overview to the modifications on OpenStage 40 US. |
| Conference | Video | 01:21 | To esteblish a conference by using the Conference key. |
| Transfer | Video | 02:32 | To transfer a call by using the Transfer key. |
| Hold | Video | 00:38 | To hold a call by using the Hold key. |
| Call Forward | Video | 02:51 | To forward a call by using the Call forward key. |
| Phonebook | Video | 02:20 | To use the phonebook by using the Phonebook key. |
Quick Reference Cards
Quick Reference Cards help users become acquainted with the core functionality of their OpenStage phones. Open the PDF in your web browser, or download it directly to your PC. Most of the "Important Operating Procedures" contain links that lead videos providing a more in-depth explanation and demonstration of the features.
Print out the Quick Reference Card and put it under your phone for a quick lookup of a desired function.
To get a high-quality printed version of this Quick Reference Card, please contact your local sales partner.
The Quick Reference Cards can be ordered at our Com Shop too (language can be changed in the shop).
See also
Show SIP related
|
Show HFA related
|
Show TDM related