optiPoint 410 entry
The Wiki of Unify contains information on clients and devices, communications systems and unified communications. - Unify GmbH & Co. KG is a Trademark Licensee of Siemens AG.
The support for this product has been discontinued!
Please visit
Devices
to get further information about the current product portfolio.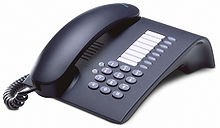 The phone optiPoint 410 entry is part of the optiPoint 410/420 phone family.
Key Features
8 programmable feature keys with LED
2 control keys (+/-)
Integrated loudspeaker
PoE according to IEEE 802.3af (power class 0) or external power supply
VLAN support
Management: DLS
Purpose / Comments
Low end phone is the most cost effective way to start with VoIP, allows IP telephony to be deployed in locations with no demand for enhanced features and comfort. Provides no display and only a few call handling features, but supports full LAN connectivity like DHCP, DLS support etc.
Recommended Locations / Scenarios
Warehouses, Store rooms
Workshops, garages
Corridors, Floors
Lobbies, small Hotels
Hospitals
Entrance halls
Key Labelling
To label the function keys of this telephone you can use the Key Labelling Tool.