OpenScape Desk Phone Hardware revisions
The Wiki of Unify contains information on clients and devices, communications systems and unified communications. - Unify GmbH & Co. KG is a Trademark Licensee of Siemens AG.
Here you find the phone hardware changes and minimum necessary software versions of your OpenScape Desk Phone telephone
Hardware/Software dependencies
How can I find the part number of my phone?
| Telephone | Housing color | Part number | Compatible version |
| --- | --- | --- | --- |
| OpenSscape Desk Phone IP 35G | carbon black | S30817-S7701-A107-2 | V3R2.5.0 |
| OpenSscape Desk Phone IP 55G | carbon black | S30817-S7702-A107-3 | V3R2.6.0 |
HFA V3 Hardware Downgrade Restrictions
Due to the replacement of 3rd party H.323 stack by Unify own H.323 stack new hardware is introduced for the OpenStage Desk Phone IP. This hardware can only be used with a HFA V3 and, later, the software can not be downgraded to a HFA V2R1 or earlier. Please use software version V3R0.5.0 or higher.
Affected phones and software to be used:
S30817-S7701-D107 (OpenScape Desk Phone IP 35G Text Carbon Black)
S30817-S7701-D305 (OpenScape Desk Phone IP 35G Icon Pure White)
S30817-S7701-D307 (OpenScape Desk Phone IP 35G Icon Carbon Black)
S30817-S7702-D107 (OpenScape Desk Phone IP 55G Text Carbon Black)
S30817-S7702-D305 (OpenScape Desk Phone IP 55G Icon Pure White)
S30817-S7702-D307 (OpenScape Desk Phone IP 55G Icon Carbon Black)
See also: Restrictions on OpenStage
Part number of the Phone
The part number is shown on the bottom side of the telephone: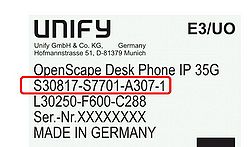 See also
Show IP related