OpenScape Desk Phone IP 55G
The Wiki of Unify contains information on clients and devices, communications systems and unified communications. - Unify GmbH & Co. KG is a Trademark Licensee of Siemens AG.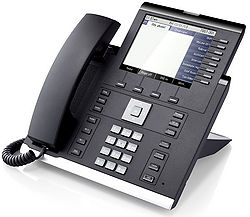 The phone OpenScape Desk Phone IP 55G is part of the OpenScape Desk Phone IP family. It can be used with SIP or HFA software.
Key Features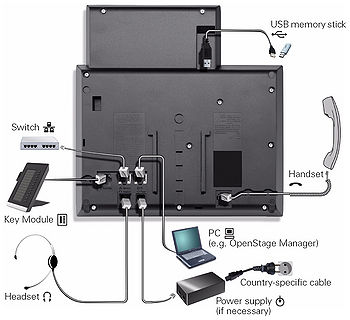 The OpenScape Desk Phone IP 55G uses AudioPresence™ HD.
Read more
Standards
Supported Codecs:
Standard based SIP support according to RFC 3261 (with SIP software)
Full-duplex hands-free talking with high quality housing microphone and loudspeaker
Computer Telephony Integration (CTI), Third party call control
Applications, Administration
Remote administration:
Built-in applications:

Graphical call handling
Local Telephone book
Directory access (LDAP)
Call log/history

External applications integrated into phone user interface:
Connections
2 ports 10/100/1000Base-T built-in Ethernet switch
USB Master for USB memory stick
Sidecar module support for Key Module 55
Integrated head set jack
Power over Ethernet (PoE) according to IEEE 802.3af or external power supply (EU, US and UK power adapters)
Wall mountable including key modules
Housing, Control elements
4-way navigator plus OK button for navigation and feature control
Volume adjustemt with Plus/Minus keys
8 free programmable keys
5 fixed keys for built-in applications
4 fixed function keys
4 Soft keys (context sensitive)
Keypad with 12 keys
Red call signalling LED
19 red LEDs for key signalling
Open Source Software
SIP V3R5

All OpenScape Desk Phone Open Source Software components V3R5
SIP V3R4

All OpenScape Desk Phone Open Source Software components V3R4
SIP V3R3

All OpenScape Desk Phone Open Source Software components V3R3
SIP V3R2

The support for this SIP version has been discon­tinued!
All OpenScape Desk Phone Open Source Software components
HFA V3R0

All OpenScape Desk Phone Open Source Software components V3R0 HFA
Certificates

  Benutzerhinweise für das Umweltzeichen Blauer Engel
End User Licence Agreement
See EULA for Desk Phone IP phones
See also
Show IP related