Talk:OpenStage SIP
The Wiki of Unify contains information on clients and devices, communications systems and unified communications. - Unify GmbH & Co. KG is a Trademark Licensee of Siemens AG.
Hi all,
Just a little note: is there a rule to fix date style on the Wiki ?
I saw both dd/mm/yyyy and mm/dd/yyyy styles: have a look to Release Notes tables on optiPoint 4x0 S and OpenStage SIP, they follow two different ways.
Should be better one way only, what do you think about ?
--Kimera 11:22, 15 December 2006 (CET)
---
Hello How correct is to speak about firmware update on the new phones ? Will be better use only the term "Application software" and not firmware ? Are there still different software images (Application, NetBoot) to worry about when upgrade or is there only a single image file to be uploaded to those phones (.img) ? --Kimera 20:43, 15 December 2006 (CET)

Hi Kimera !
In SEBA dd/mm/yyyy for OpenStage SIP!
Danke für die Grafikbearbeitung! Frage ist es erlaubt Fotos von Siemens hier zu veröffentlichen ?
Oder wie sieht es mit den Rechten aus?
--SCCSSF 09:57, 16 December 2006 (CET)
---
Hi SCCSSF, So on all the Wiki page should be better use the dd/mm/yyyy date style other than mm/dd/yyyy ?
I asked this because I saw both ways and I prefear one standardized way only (It's better IMHO).

I don't understand well german, could you write me in english too ? --Kimera 11:56, 16 December 2006 (CET)
---
Hi Kimera
my write english is bad so some time i write in german! I understand you problem with the date! I think the best is dd/mm/yyyy.
--SCCSSF 18:35, 16 December 2006 (CET)
---
Hi SCCSSF, It's not a real problem, just a way to do things in a standard and common way.
I agree with you, also for me the best date style is (or should be) dd/mm/yyyy instead of mm/dd/yyyy.
Should, in your opinion, we need to contact someone else mangaing the Wiki for this little stylish-only issue ? Reach me via Messenger if you want (See my user page) --Davide.poletto 18:47, 16 December 2006 (CET)
How can Change the logo in the OS40?
In the version V1 R2.5.10 of phone OpenStage 40 SIP, is visualized in display "SIEMENS". This logo, is possible change or erase? How?
I know how do that for OS60/80, but the OS40 don't have any option by WBM
This is one screenshot: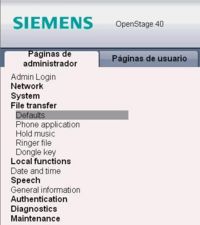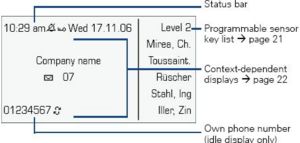 I need to change the field "Company name", but no place explains as making that.
Thanks,
--Alexis.sc 15:58, 25 September 2007 (CEST)
The brand (logo) is changeable by WBM like on OpenStage 60/80, but you need at least V1 R2.7.0 (FP 4.1) of the telephone software. --Horemu 11:09, 8 October 2007 (CEST)
HELP! How can I use Netboot for an OpenStage 60?
I´m trying to reboot the phone cause it´s "dead". It just keeps displaying "booting application..." and nothing happens. I tried to use netboot but I have the files to use with an Optipoint 600... Please help, I need to fix this phone!
HELP - Also looking to Netboot OpenStage 60 (+ 20 & 40 Models)
We recently updated our OpenStage ME server and many of the phones seemed to have failed during the handset firmware update. We have had this before and had to send handsets back to Siemens. Is there a manual method to update the firmware on the phones such as using netbooting - TFTP ??? Our phones are the POE version of the OpenStage models (OpenStage 20/40/60 SIP) - is there a way to extract the handset updates from the OpenStage ME server? --SLANE 11:43, 18 November 2009 (UTC)