LDAP on optiPoint phones
The Wiki of Unify contains information on clients and devices, communications systems and unified communications. - Unify GmbH & Co. KG is a Trademark Licensee of Siemens AG.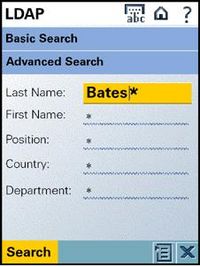 With the LDAP application you can search in corporate or public directories by using e.g. the optiPoint application module.
Scope
Accessing corporate or public directories via LDAP is comfortable way to search large and up-to-date databases. With so called LDAP templates the user can suit the search-mask and the returned result list to his/her needs.
For Search 5 attributes are configureable.
For Displaying results 8 attributes can be configured, inclusive direct dialable telephone numbers.
Documentation

  How to configure LDAP@APM
Ressources

  Sample LDAP-template
How To's
AI: Example searching public LDAP directories
See also