How to connect myPortal to ODS
The Wiki of Unify contains information on clients and devices, communications systems and unified communications. - Unify GmbH & Co. KG is a Trademark Licensee of Siemens AG.
Error creating thumbnail: File missing
How to connect OpenScape Business to LDAP Server
Preface
This How To describes the connection of myPortal / myPortal for Outlook Clients to the Open Directory Service.
It is written based on OSO version V3R2. Deviations may occur, if higher versions are used.
Only the ODS relevant setting are described here. For general OSO LDAP configuration issues have a look at:
All data shown here and also the screenshots are examples only, which are used to demonstrate the capabilities.
Prerequisites
Before you start, you have to check some prerequisites otherwise the connection fails.
Fully installed and operational OSO system
ODS is active within the OSO system
ODS is successfully connected to an external database
UC Suite LDAP Client Settings 
My Portal and myPortal for Outlook can also search data in external directories, which are connected to the ODS.
To do so you have to configure the LDAP connection of the UC Suite within the OpenScape Office system in the way that points to the ODS.
At first you have to open the Administration Portal of OpenScape office, choose the expert mode and selct the UC Suite configuration.
A left mouse click to "UC Suite" opens the configuration dialog. Selection of "External Provider config" opens the Dialog for LDAP server configuration. Another mouse click to the "Add" button grants access to the creation of a new LDAP connection. The following settings have to be entered.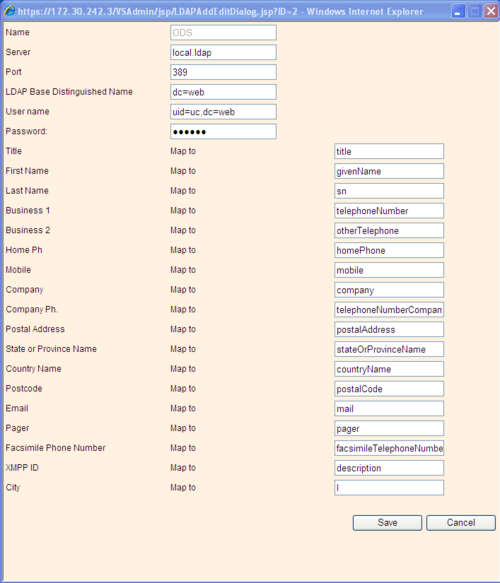 Parameter
Value / Remark

Name:

This name describes the LDAP connection.

Server:

IP Adress of the OSO system in which the ODS is located.

Within OSO LX/MX single node systems

local.ldap

should be used as server address. This name is internally resolved and directed to the correct IP address of the ODS.

Note: This does not apply for network scenarios. In this case the IP address of system, which operates the ODS has to be entered.

Port:
Port of the ODS LDAP Server (Default is 389)
LDAP Base Distinguehed Name
This parameter has to be set to

dc=web

User name:
For access from OSO myPortal Client the User Name must be set to:

uid=uc,dc=web

regardless the settings within the ODS configuration. This setting ensures, that the OSO internal entries are filtered by ODS and that they are not shown twice. In case the filtering is not wanted,

uid=ldap,dc=web

has to be entered instead.

Password:

The password, which was assigned for the ODS LDAP Server login during the ODS configuration has to be entered here.



LDAP field mapping:
Afterwards the LDAP field of OSO UC myPortral/myPortal for Outlook clients must be mapped to the appropriate ODS LDAP fields. The mapping within the picture above shows the assignment.

All entries become effective within OSO after saving.