optiPoint 150 S setup for SIP IT Service Provider
The Wiki of Unify contains information on clients and devices, communications systems and unified communications. - Unify GmbH & Co. KG is a Trademark Licensee of Siemens AG.
In this How To article you find an overview and a detailled description how to setup the optiPoint 150 S with several VoIP provider.
Basic configuration
The following tables show as a comparison the necessary parameters to setup the optiPoint 150 S with several provider.
The paths in the sub-section headlines refer to the Web-based management of the optiPoint 150 S.
Please note that in some cases it is not possible to make use of all optiPoint 150 S features when connecting to certain provider. For further information take a look at the provider feature overview for the optiPoint 150 S.
Of course you are free to add the settings for your favourite provider in the tables below.
Network > Interface

| | DHCP |
| --- | --- |
| 1&1 | On |
| bellshare | On |
| blueSIP | On |
| Freenet | On |
| GMX | On |
| Nikotel | On |
| Sipgate | On |
| STRATO | On |
| T-Online | On |
| XSip | On |
The usage of the DHCP function is recommended. If you require a static IP address due to special circumstances (e.g. for registration of several devices within the same network environment), deactivate the checkbox for the DHCP function. The required information on how to set a static IP address can be found in the Administration Manual of the optiPoint 150 S.
SIP Setup > SIP Settings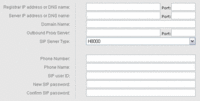 Registrar IP address or DNS name
Registrar
Port
Server IP address or DNS name
Server Port
Domain Name
Outbound Proxy Server
Proxy Port
SIP Server Type
Phone Number
Phone Name
SIP user ID
SIP password
1&1
sip.1und1.de
5060
sip.1und1.de
5060
1und1.de
sip.1und1.de
5060
H8000
your SIP-ID
optional
your SIP-ID
your SIP-password
bellshare
bellshare.com
5060
bellshare.com
5060
bellshare.com
bellshare.com
5060
H8000
your SIP-ID
optional
your SIP-ID
your SIP-password
blueSIP
bluesip.net
5060
bluesip.net
5060
bluesip.net
bluesip.net
5060
H8000
your SIP- ID
optional
your SIP-ID
your SIP-password
Freenet
freenet.de
5060
freenet.de
5060
freenet.de
iphone.freenet.de
5060
H8000
your SIP-ID
optional
your SIP-ID
your SIP-password
GMX
sip-gmx.net
5060
sip-gmx.net
5060
sip-gmx.net
leave blank
leave blank
H8000
your phone number
your phone number
your phone number
your SIP-password
Nikotel
calamar0.nikotel.com
5060
calamar0.nikotel.com
5060
nikotel.com
calamar0.nikotel.com
5060
H8000
your SIP-ID
optional
your SIP-ID
your SIP-password
Sipgate
sipgate.de
5060
sipgate.de
5060
sipgate.de
sipgate.de
5060
H8000
your SIP-ID
optional
your SIP-ID
your SIP-password
STRATO
strato-iphone.de
5060
strato-iphone.de
5060
strato-iphone.de
strato-iphone.de
5060
H8000
your SIP-ID
optional
your SIP-ID
your SIP-password
T-Online
tel.t-online.de
5060
tel.t-online.de
5060
tel.t-online.de
leave blank
leave blank
H8000
your phone
number
your phone
number
your SIP-ID
your SIP-password
XSip
node1.xsip.de
5060
node1.xsip.de
5060
xsip.de
node1.xsip.de
5060
H8000
your SIP-ID
optional
your SIP-ID
your SIP-password
SIP Setup > STUN Settings

| | STUN | Server Address | Server Port |
| --- | --- | --- | --- |
| 1&1 | On | stun.1und1.de | 3478 |
| bellshare | On | stun.bellshare.com | 10000 |
| blueSIP | On | stun.bluesip.net | 3478 |
| Freenet | On | iphone-stun.freenet.de | 3478 |
| GMX | On | stun.gmx.net | 3478 |
| Nikotel | On | calamar0.nikotel.com | 3478 |
| Sipgate | On | stun.sipgate.de | 10000 |
| STRATO | On | iphone-stun.strato-iphone.de | 3478 |
| T-Online | On | stun.t-online.de | 3478 |
| XSip | Off | --- | --- |