OpenStage Busy Lamp Field 40
The Wiki of Unify contains information on clients and devices, communications systems and unified communications. - Unify GmbH & Co. KG is a Trademark Licensee of Siemens AG.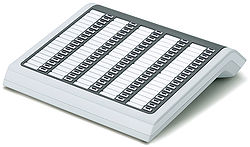 The OpenStage Busy Lamp Field 40 can be used with an OpenStage 40(G), OpenStage 40 T and OpenStage 30 T phones on HiPath 3000, HiPath 4000 and HiPath OpenOffice.
Features:
90 additional freely programmable keys with LEDs; function, speed dial or line keys.
Available colors: ice blue or lava.
At most one Busy Lamp Field per telephone is possible. No combination with an OpenStage Key Modules.
The BLF needs a separate power supply.
The OpenStage Busy Lamp Field 40 is part of the OpenStage Accessories.
Key Labelling
To label the keys of this BLF you can use the Key Labelling Tool.