Instant Messenger
The Wiki of Unify contains information on clients and devices, communications systems and unified communications. - Unify GmbH & Co. KG is a Trademark Licensee of Siemens AG.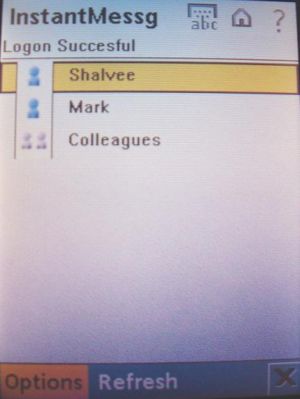 Until recent times Instant Messenger functionality has been limited to PC and desktops only. By utilising the capabilities of the AGP and Instant Messenger applications we can now provide a significant amount of functionality on the optiPoint Series phones via the DSM or APM. Instant messenger requires all the users to get connected to common web server with Instant Messaging Application on it. Whenever a person logins he is added into the contact list maintained by web server and is visible to others.
Operation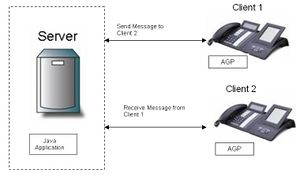 Operational Overview:
Client 1 writes a message on the Instant Messenger application running on the phone's AGP.
The message is sent in a request to the servlet running on the server.
The servlet pushes Client 2 informing it to retrieve the message from the server.
Client 2 then contacts the servlet in order to receive the message.
Key Features
User can send a message to contact that has logged in to the web server.
User can receive message from anyone who is connected to web server through this application.
User can create a workgroup of number of contacts. Workgroup is visible once everyone logs on to the server and the user can send same message to all the contacts simultaneously.
See also