How to connect myPortal to ODS
The Wiki of Unify contains information on clients and devices, communications systems and unified communications. - Unify GmbH & Co. KG is a Trademark Licensee of Siemens AG.
Error creating thumbnail: File missing
Preface
This How To describes the connection of myPortal / myPortal for Outlook Clients to the Open Directory Service.
It is written based on OSO version V3R2. Deviations may occur, if higher versions are used.
All data shown here and also the screenshots are examples only, which are used to demonstrate the capabilities.
Prerequisites
Before you start, you have to check some prerequisites otherwise the connection fails.
Fully installed and operational OSO system
ODS is active within the OSO system
ODS is successfully connected to an external database
OSO LDAP Client
My Portal and myPortal for Outlook can also search data in external directories, which are connected to the ODS.
To do so you have to configure the LDAP Client within the OpenScape Office system in the way that it can access the ODS.
At first you have to open the Administration Portal of OpenScape office, enter the expert mode and selct the UC Server configuration.

A left mouse click to "UC Suite" opens the configuration dialog. Selection of "External Provider config" opens the Dialog for LDAP server configuration. Multiple LDAP Server can be configured here.
Window 500px

Click to the add button to created a new LDAP connection.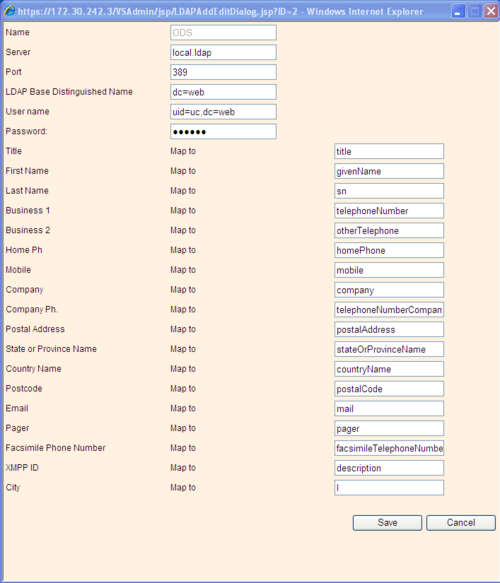 To connect OSO LDAP clients to the ODS LDAP Server the following settings have to be entered.
Within the OpenScape Office Server configuration a new LDAP Server Access has to be defined with the following setting.s
Within OSO MX multi box system the internal IP address of Box 1 "192.168..2.1) has to be used. In all other systems OSO MX and OSO LX the IP address 127.0.0.1 (localhost) should be used.
Within OSO LX/MX single node systems "local.ladp" can be used as server address. This name is internally resolved and directed to the correct IP address of the OSD.
Note: This does not apply for network scenarios. In this case the IP address of system, which operates the ODS has to be entered.