optiPoint 420 standard S
The Wiki of Unify contains information on clients and devices, communications systems and unified communications. - Unify GmbH & Co. KG is a Trademark Licensee of Siemens AG.
The support for this product has been discontinued!
Please visit
Devices
to get further information about the current product portfolio.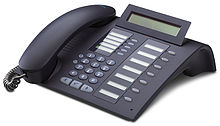 The SIP phone optiPoint 420 standard S is part of the optiPoint 410/420 S phone family.
Key Features
Purpose / Comments
This phone fulfills requirements for the demanding user, e.g. the adding of more programmable function keys with the optiPoint key module or use of applications on the display module. Managers may want to use the full duplex hands free operation.
Recommended Locations / Scenarios
Office environment
Conference rooms
First class hotel rooms