optiGuide
The Wiki of Unify contains information on clients and devices, communications systems and unified communications. - Unify GmbH & Co. KG is a Trademark Licensee of Siemens AG.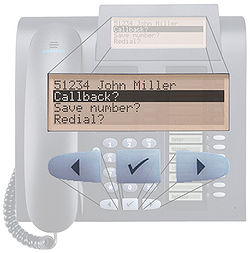 Explanation
optiGuide is the user-friendly and intuitive user interface on optiPoint phones with dialog keys



and LCD display.
Erläuterung
optiGuide ist die benutzerfreundliche und intuitive Bedienmöglichkeit bei optiPoint-Telefonen mittels Dialogtasten



und LCD display.
See also / Siehe auch