XML deployment scenario overview
The Wiki of Unify contains information on clients and devices, communications systems and unified communications. - Unify GmbH & Co. KG is a Trademark Licensee of Siemens AG.
These are XML deployment scenarios for optiPoint 410/420 S phones, etc.
Scenario 1: Plug & Call
Benefits
No action required on user side (Plug & Call).
Phones automatically retrieve configuration data when connecting to the LAN.
Allows complete (i.e. phone / user individual) deployment – and individual service/updates through the lifecycle.
Automatic software maintenance through the lifecycle.
Prerequisites
One-time pre-configuration of the LAN (DHCP option 43, e.g. on network server or CPE) – a potential limitation in SOHO environment.
Generating the configuration files (before) installing the phones – may require minor integration work in the system management / CMR system.
Logistics: Scanning of MAC addressing from the phone box / deploying of phones assigned to a particular user.
Scenario overview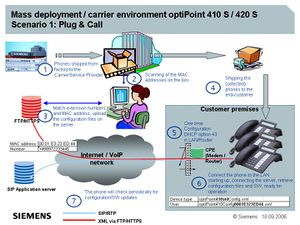 Scenario 2: Service model
Benefits
Only minor efforts for providing centralized configuration data (e.g. no MAC address related logistics – system wide data only).
Minor security requirements on processing the configuration files.
Best if combined with other service offerings, e.g. network analysis / network setup - which require initial expert visit on user site.
Prerequisites
Initial on-site visit of a service / level 1 technician.
DHCP option 43 helpful, but not necessarily required.
Scenario overview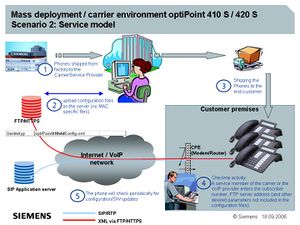 Scenario 3: Self care model – with centralized management
Benefits
Prerequisites
Scenario overview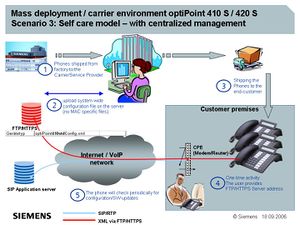 Scenario 4: Self care model – no centralized management
Strictly speaking, this is no mass deployment scenario - but is nevertheless described to ?????
Benefits
Prerequisites
Scenario overview