XML application samples
The Wiki of Unify contains information on clients and devices, communications systems and unified communications. - Unify GmbH & Co. KG is a Trademark Licensee of Siemens AG.
Here you find description and settings for XML application samples. Be sure to have this prerequisites. All of these applications are hosted centrally in the internet and can be accessed using the parameters given in the screenshots.
Presence Demo
This demo simulates a presence application and shows the usage of different XML objects in an application.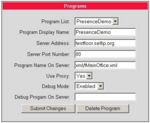 Picture Show
This application shows a screensaver. Each JPEG can be converted to PNG and used in such an environment.
The filename in the following screenshot is too long, do not forget to type the proper extension *.xml if you want to try out this.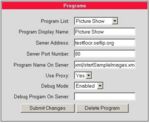 XML Tutorial
This XML tutorial is an ideal tool if you start developing XML applications for the optiPoint application module. In conjunction with the

  XML developers guide it demonstrates how the different XML-objects behave and appear on the screen.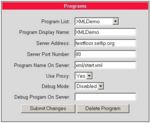 See also