Plug PC
The Wiki of Unify contains information on clients and devices, communications systems and unified communications. - Unify GmbH & Co. KG is a Trademark Licensee of Siemens AG.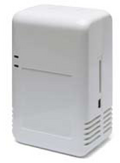 Explanation
Plug PC is a computer that looks like a plug-in power supply. This computer is network-compatible and versatile applicable.
Erläuterung
Plug PC ist ein Computer in Form und Größe eines Steckernetzteiles. Der Computer ist netzwerkfähig und kann zu verschiedenen Zwecken eingesetzt werden.
See also / Siehe auch