Local Address Book on OpenStage 40
The Wiki of Unify contains information on clients and devices, communications systems and unified communications. - Unify GmbH & Co. KG is a Trademark Licensee of Siemens AG.
Remark: This feature is available for OpenStage 40 SIP only.

Local Phonebook is already available on OpenStage 60/80. The purpose of this feature is to include light version of local phonebook on OpenStage 40. The following are the feature are included:
Personal phonebook with 100 entries.
Phonebook configuration via WBM.
Phonebook configuration via Phone locally.
An entry consists of name and one number.
Access the phonebook list via configuration menu and FPK.
Phonebook Start
The phonebook can be accessed over the settings menu button. It is presented on the first level of the menu structure.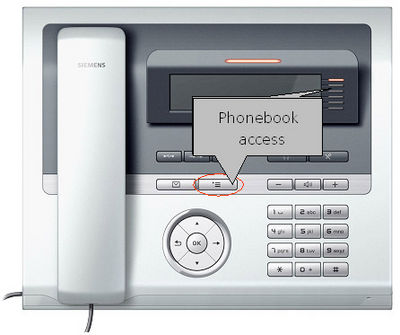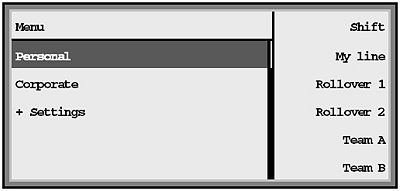 The title will be changed to Menu. Three options will be listed. One of them is to access the Local Phonebook (Personal), one is to access Corporate directory and the last one is for settings. If the phone is configured only with Local phonebook, Corporate option will not be displayed. This is valid for HFA only.
It is also possible to use an FPK for starting the phonebook. When FPK configured as Local Phonebook is pressed, the phonebook list will be displayed.
Phonebook Maintenance
Local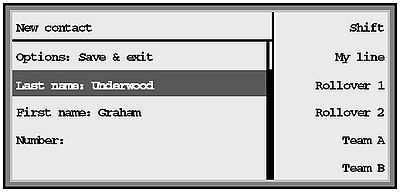 There are three fields to be filled to record a new contact into internal phonebook. These fields are Last name, First name and Number. No more information is necessary.
Web Based Management
WBM path:
User Pages > Phonebook > Contact list