Audible key click
The Wiki of Unify contains information on clients and devices, communications systems and unified communications. - Unify GmbH & Co. KG is a Trademark Licensee of Siemens AG.
The OpenStage range of phones will now generate acoustic feedback (key clicks) on key press action.
The user has control over which groups of keys produce the key click:
Keypad only: Just the 12 keypad keys, 0 – 9, * and #
All keys: Clicks occur for all keys, not only the Dial Pad – including the sidecar keys
The user is able to select the Key click configuration option via WBM or the Settings menu on the phone itself. A new form with the title Key click can be found in the User/Phone menu which allows the user to adjust the key click settings to their preference.
OpenStage 40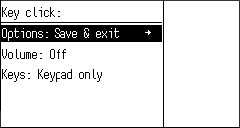 OpenStage 15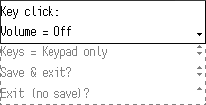 Volume can be set to Off, Low, Medium or High.
Keys can be set to Keypad only or All keys.
The appearance on OpenStage 60/80 is similar to the OpenStage 40 example above. The appearance on OpenStage 20 is similar to the OpenStage 15 example above.
The click (actually a 1 kHz beep) was previously used on optiPoint (the short variant: 70 ms) and this is independent of the country settings.
The term Key click refers to a single audio event played out on a key press action (i.e. keydown for a long or short press) of the keys listed below:
Keypad (0 - 9, * and #)
OK key
Navigation keys (left, right, up, down)
Mode Keys
All Fixed Keys (Release, Headset, Speaker, Mute, Forwarding, +, -, etc.)
FPK (phone)
FPK (sidecars): The user can control which groups of keys will produce a key click in two groups; Keypad only or All keys as listed above.
The click will sound as soon as the user presses the key (key-down); there is no delay or repeat for long press action.
No Key click will be given for the phone volume slider, or when scrolling using the touchguide on OpenStage 60/80.
The generation of a key click is completely independent of any DTMF tones that may or may not be played out to the line when a Keypad key is pressed during a call. Key click does not affect the DTMF tone generation process in any way.
The settings can also be made via DLS and can be subject to feature lock down.