optiPoint 420 advance
The Wiki of Unify contains information on clients and devices, communications systems and unified communications. - Unify GmbH & Co. KG is a Trademark Licensee of Siemens AG.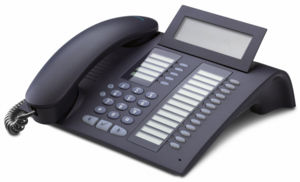 The phone optiPoint 410 advance is part of the optiPoint 410/420 phone family. The main differences between optiPoint 420 models and optiPoint 410 models are the displays next to the feature keys. The programmed feature or the telephone number is displayed directly via the self labeling key display.
Key Features
4-line display (4x24 characters, tiltable, backlit)
3 dialog keys, 2 control keys (+/-)
Integrated loudspeaker
PoE according to IEEE 802.3af (power class 2) or external power supply
VLAN support
Security fearutes
Integrated 10/100 Mbit/s LAN switch for connecting a PC
Integrated head set jack
DLS und XML configuration file support
Wall mountable
Modularity optiPoint adapter and module support
Full-Duplex hands free operation
USB Master port (key board)
Purpose / Comments
This phone provides maximum comfort with the 4-line display and increased number of programmable function keys
Recommended Locations / Scenarios
Office environment
Manager/secretary function
Conference rooms
First class hotel rooms