myPortal for Outlook
The Wiki of Unify contains information on clients and devices, communications systems and unified communications. - Unify GmbH & Co. KG is a Trademark Licensee of Siemens AG.

myPortal for Outlook is the user portal integrated in Microsoft Outlook for accessing the unified communication functions of OpenScape Office. It is analogous to myPortal. With myPortal for Outlook, all the myPortal UC Suite features can be integrated seamlessly into Microsoft Office Outlook.Users thus have direct access to their personal voicemail and fax messages, can dial directly from their Outlook contacts and use them for scheduling phone conferences.
myPortal for Outlook SW is part of OpenScape Business / Office SW and bound to the SW version of the communication platform.

The following description refers to OpenScape Business V1R2 and OpenScape Office V3R3.5. Deviations within the feature set may occur for previous or subsequent versions of OpenScape Business/Office
Overview
myPortal for Outlook seamlessly integrates all UC Suite functions of myPortal for Desktop in Microsoft Office Outlook. Therefore, for instance, every user has direct access to their personal voice and fax messages, can dial directly from their Outlook contacts, or use these contacts for planning telephone conferences.
The user interface of myPortal for Outlook consists of the myPortal for Outlook tool bar integrated in Microsoft Outlook, a separate window with the Favorites list and further windows and screen pops, depending on the situation. By default, the tool bar of myPortal for Outlook is located below the menu bar and the tool bar of Outlook (Outlook 2003, Outlook 2007). In Outlook 2010 the icons of myPortal for Outlook are located in the myPortal ribbon tab.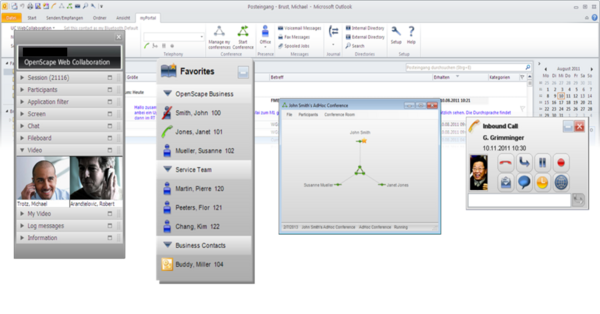 Features
myPortal for Outlook provides the following features:
Directories
Favorites List
Journal for calls
Desktop Dialer
Screen pops
Presence status
CallMe service with ONS (One Number Service)
Status-based call forwarding
Personal AutoAttendant
Conferences
Record calls
Instant Messaging
Voice and Fax messages