myPortal for OpenStage
The Wiki of Unify contains information on clients and devices, communications systems and unified communications. - Unify GmbH & Co. KG is a Trademark Licensee of Siemens AG.
myPortal for openStage is the user interface for openStage 60 / 80 devices. In case a user has forgotten to set his current presence status myPortal for openStage offers the possibility to modify the status from graphical user interface of the openStage phone.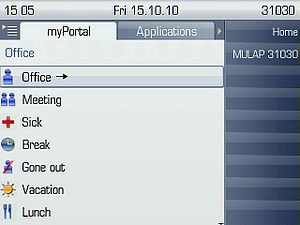 Presence display, status setting and return date
The following presence statuses can be displayed:
Office
Meeting
Sick
Break
Gone out
Vacation
Lunch
Gone home
The currently set presence status is displayed in the main menu by the appropriate symbol and is visible to all other myPortal web and myPortal entry users. The call diversions associated with the presence status remain in place even after myPortal web is closed or the smartphone is switched off.
Configuration Overview
Functional Boundaries and Limitations
Supported telephons
Currently following OpenStage phones are tested and released,
OpenStage 60 HFA
OpenStage 80 HFA
Prerequisites
To use this application the myPortal entry Web Services must be installed and in operation.
Software Delivery
n/a
Documentation
Feature Descriptions

Installation und Use
Licensing
For operation no license is required.
See also