Difference between revisions of "myPortal for Mobile/Tablet"
The Wiki of Unify contains information on clients and devices, communications systems and unified communications. - Unify GmbH & Co. KG is a Trademark Licensee of Siemens AG.
Line 10:
Line 10:
 
 
 

=== Features ===

 

=== Features ===

−

myPortal for Mobile/Tablet is the optimized, webbased solution of OpenScape Business Unified Communications for mobil devices as smartphones or tablet PCs. The solution offers the following features:  

+

myPortal for Mobile/Tablet is the optimized, webbased solution of OpenScape Business for mobil devices as smartphones or tablet PCs. The solution offers the following features:  

 
 
−

* Directories  

+

* Directories

−

* Favorites  

+

* Favorites

−

* Journal  

+

* Journal

−

* Presence Status  

+

* Presence

−

* Manual dialing / Redialing

+
−

* Voicemail

+

Status

 
+

*

 
+

*

 
 
−

myPortal for Mobile/Tablet is optimized for presentation on Apple's iPhone / iPad but can also be used with several other devices.

+
 
+
 
+

 

 
+
 
+
 
+

 

 
+

myPortal for Mobile/Tablet is optimized for presentation on Apple's iPhone but can also be used with several other devices.

 

Depending on which device and operating system is used, the ease of use or function may be affected.  

 

Depending on which device and operating system is used, the ease of use or function may be affected.  

−

The following requirements apply for smartphones:  

+

The following requirements apply for smartphones:  

 
+

 

 
+
 
+
 
+
 
+
 
+

 

 
+

 

 
+
 
+

 

 
+

 

 
 
−

Touch screen (recommended for ease of use)

 
−

Display resolution of at least 240 * 320 pixels

 
−

Internet Access

 
−

Web browser with JavaScript enabled

 
 
 
 
+
 
 
 

Support for the simultaneous transmission of voice and data through mobile phones and the mobile network  

 

Support for the simultaneous transmission of voice and data through mobile phones and the mobile network  

 

3G data connection, for example, EDGE, UMTS, HSDPA (recommended for smooth service). GPRS can lead to slow page rendering.  

 

3G data connection, for example, EDGE, UMTS, HSDPA (recommended for smooth service). GPRS can lead to slow page rendering.  

 

Flat rate data plan (recommended for cost reasons), since data volumes of several 100 MB per month may be involved, depending on usage.

 

Flat rate data plan (recommended for cost reasons), since data volumes of several 100 MB per month may be involved, depending on usage.
---
Revision as of 14:53, 28 October 2013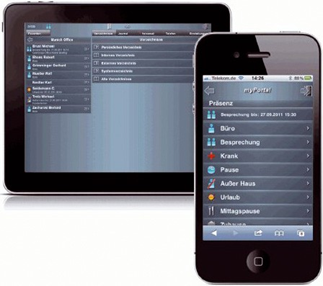 Overview
myPortal for Mobile/Tablet is the web-based user interface for mobile employees with smartphones and tablet PCs.Mobile workers thus have access to UC features such as presence or voice messages, no matter where and at what time they are on the road. The mobile device is thus fully integrated into the corporate communication. The cost of voice calls can be reduced on the mobile phone through a variety of dialing methods (callback, GSM or call-through), which can be set by the user
Features
myPortal for Mobile/Tablet is the optimized, webbased solution of OpenScape Business UC Smart odr UC Suite for mobil devices as smartphones or tablet PCs. The solution offers the following features:
Directories
Favorites List
Journal
Presence status
CallMe service (myPortal for Mobile (UC Suite))
Status-based call forwarding
Voicemails
SMS (not on every Mobile Phone or tablet PC)
Please note:
myPortal for Mobile/Tablet in combination with UC Smart or UC Suite offer some different features depending on the capabilities of the underlying UC solution.
Prerequitites
myPortal for Mobile
myPortal for Mobile/Tablet is optimized for presentation on Apple's iPhone but can also be used with several other devices. Depending on which device and operating system is used, the ease of use or function may be affected. The following minimum requirements apply for smartphones:
Touch screen (recommended for ease of use)
Display resolution of at least 240 * 320 pixels
Internet Access
Web browser with JavaScript enabled

myPortal for Tablet

Mobile Network
Support for the simultaneous transmission of voice and data through mobile phones and the mobile network 3G data connection, for example, EDGE, UMTS, HSDPA (recommended for smooth service). GPRS can lead to slow page rendering. Flat rate data plan (recommended for cost reasons), since data volumes of several 100 MB per month may be involved, depending on usage.