myAgent (de)
The Wiki of Unify contains information on clients and devices, communications systems and unified communications. - Unify GmbH & Co. KG is a Trademark Licensee of Siemens AG.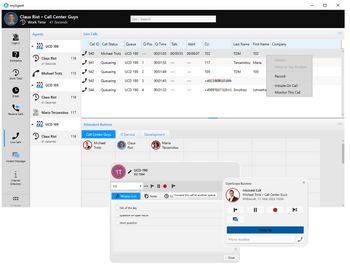 myAgent ist das Benutzer Portal für Contact Center Agenten, sowie für Supervisor und für Contact Center Administratoren. Informationen über Anzahl der wartenden Anrufer sind hier ebenso enthalten wie der Präsenz Status der anderen Teilnehmer.
myAgent bietet folgende Leistungsmerkmale:
Call processing
Caller details
Agent callback
Agent status
Presence status
Real-time monitoring of queues
Assistance
As an agent you can request assistance from the supervisor during a call. When doing so, you can specify the reason and the type of assistance you require: Instant messaging, Silent Monitoring or Override.
Instant Messaging enables you to exchange instant messages (i.e., to chat) with other internal subscribers. Instant Messaging is possible in combination with myPortal, myPortal for Outlook, myAgent or myAttendant.
Directories
Voice and Fax messages
Reports