myAgent
The Wiki of Unify contains information on clients and devices, communications systems and unified communications. - Unify GmbH & Co. KG is a Trademark Licensee of Siemens AG.

myAgent is a .NET based client for accessing the Contact Center functions of OpenScape Office from a Desktop PC.
myAgent offers the same look and feel and handling for agents as well as for supervisors or administrators.
The SW is part of OpenScape Office SW and bound to OpenScape Office SW version.

The following description refers to OpenScape Office V3R3. Deviations may occur for previous or subsequent versions of OpenScape Office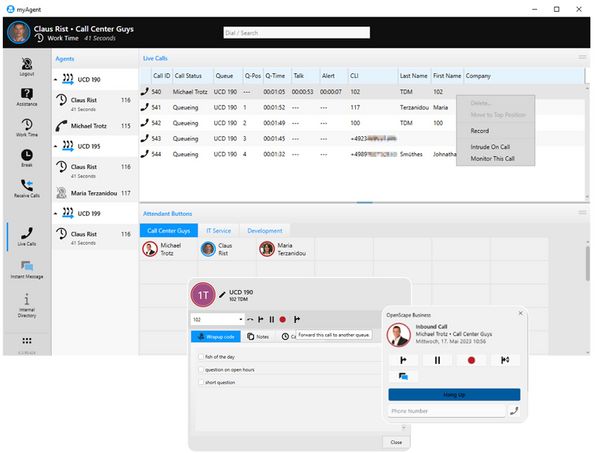 Overview
Features
myAgent is the user portal for contact center agents, supervisors and contact center administrators.
It provides information about the number of waiting calls as well as information about the Presence status of other subscribers.
myAgent provides in general:
Call processing
Caller details
Agent callback
Agent status
Presence status
Real-time monitoring of queues
Assistance
As an agent you can request assistance from the supervisor during a call. When doing so, you can specify the reason and the type of assistance you require: Instant messaging, Silent Monitoring or Override.
Instant Messaging enables you to exchange instant messages (i.e., to chat) with other internal subscribers. Instant Messaging is possible in combination with myPortal, myPortal for Outlook, myAgent or myAttendant.
Directories
Voice and Fax messages
Reports
Differences to previous versions
From OpenScape Office V3R3 on myAgent offers:
Configuration Overview
myAgent is a .NET based client SW which is installed on a Microsoft Windows based Desktop PC. myAgent connects to OpenScape office via Ethernet LAN with TCP/IP protocol.
Requirements
Telecommunication systems
Platform
Supported Telephones
myPortal for Desktop can be used in combination with the following telephones:
OpenStage HFA
OpenStage T (HX)
optiPoint 410 HFA
optiPoint 420 HFA
optiPoint 500 (HX)
optiPoint WL2 professional HFA
SIP Phone
Analog telephone
optiClient 130 HFA
OpenScape Personal Edition HFA
OpenScape Personal Edition SIP
HiPath Cordless Office (HX)
HiPath Cordless IP
PC Hardware
Within the following the minimum HW requirements are shown. However, it should be noted that the operating system, groupware and any additional software components in use in the customer environment may require considerably more powerful hardware.

Client PC
Windows Client PC
2 GHz CPU
RAM: 2 GB (Microsoft Windows XP: 1 GB) (Microsoft Windows 2003 Server: 1 GB)
100 Mbps LAN
XGA (1024x768) screen resolution, myPortal for Outlook: SVGA (800x600) screen resolution
Terminal Server Termininal Server installaions are currently not released
PC software
Desktop Operating Systems
Windows Client PCs
Microsoft Windows 7
Microsoft Windows Vista
Microsoft Windows XP
MAC Client PCs
Apple MAC OS X >= 10.7.3 (Lion)
Terminal Server Operating Systems
Microsoft Windows 2008 R2 Server (64 bit) with Citrix XenApp 6.0 Server (Desktop Mode)
Microsoft Windows 2008 R2 Server (64 bit) with Citrix XenApp 5.0 Server (Desktop Mode)
Microsoft Windows 2008 R2 Server (64 bit) as Microsoft Terminal Server
Microsoft Windows 2008 Server as Microsoft Terminal Server
Microsoft Windows 2003 Server as Microsoft Terminal Server
Application Software
Internet Browser
myPortal for Desktop can be used in combination with the following web browsers:
Microsoft Internet Explorer Version 7
Microsoft Internet Explorer Version 8 in compatibility mode
Microsoft Internet Explorer Version 9
Mozilla Firefox Version 3.6.x
Mozilla Firefox Version 4 or later
Licenses
Within Open Scape Office following licenses are necessary for each user, who wants to use myAgent. Contact Center base license Comfort user license or comfort plus user license Contact Center agent license
Functional Boundaries and Limitations
SW Installation
Local administration rights on the client PC are required for the installation, but not for automatic updates
Windows Update
The PCs always need the current status of all available updates, including Service Packs.
Outlook Contacts and appointments
Access to Microsoft Exchange Server (for Outlook contacts and appointments) must be given in order to use these features
Message Waiting Indication
For analog and DECT telephones, the Message Waiting Indication (MWI) is not supported, and only limited support is available for displaying information on the phone.
Documentation
User manual
Actual or revised documents can be retrieved from SEBA.
Software Deployment
myAgent is part of OpenScape Office SW image.
The following options are available for providing installation files to users:

The administrator downloads the installation files from the Download Center and provides them to users via a network drive, for example.
They can access the installation files directly via a network drive connected with \\<IP address of OpenScape Office>\applications

The installation files are located in the install-common folder. For login credentials refer to your system administrator

Licensing
A license is required for for every user for the operation of myAgent.
Differences have to be considered between the user licensing of OpenScape Office LX/MX and OpenScape Office HX. myAgent licenses are floating licenses and not bound to the user station.