myAgent
The Wiki of Unify contains information on clients and devices, communications systems and unified communications. - Unify GmbH & Co. KG is a Trademark Licensee of Siemens AG.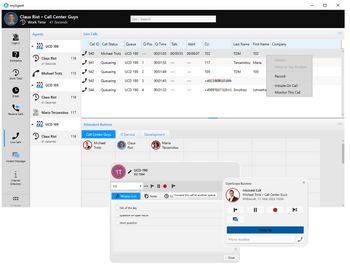 myAgent is the user portal for contact center agents, supervisors and contact center administrators. It provides information about the number of waiting calls as well as information about the Presence status of other subscribers.
myAgent provides the following features:
Call processing
Caller details
Agent callback
Agent status
Presence status
Real-time monitoring of queues
Assistance
As an agent you can request assistance from the supervisor during a call. When doing so, you can specify the reason and the type of assistance you require: Instant messaging, Silent Monitoring or Override.
Instant Messaging enables you to exchange instant messages (i.e., to chat) with other internal subscribers. Instant Messaging is possible in combination with myPortal, myPortal for Outlook, myAgent or myAttendant.
Directories
Voice and Fax messages
Reports
Interoperability Matrix
Client - Device
Overview about interoperability of clients and phone devices:
Phones
Client
myAgent
myReports
openStage T
no
no
openStage HFA
yes
yes
optiPoint 500
no
no
optiPoint 410/420 HFA
yes
yes
openStage SIP
no
no
optiPoint 410/420 SIP
no
no
CMI
no
no
Analog
no
no
S0
no
no
openStage Personal Edition
yes
yes
optiPoint 150S
no
no
WLAN
no
no