Traffic Info
The Wiki of Unify contains information on clients and devices, communications systems and unified communications. - Unify GmbH & Co. KG is a Trademark Licensee of Siemens AG.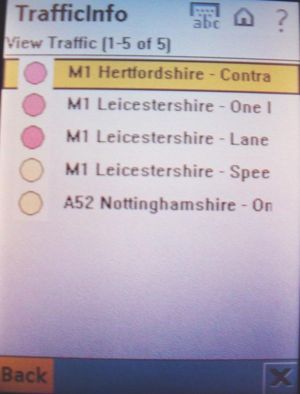 The application enables the user to access up to date traffic news from their IP Phone. It also alerts the user to incidents that may cause them to be delayed, giving the user a chance to change their route or find an alternative mode of travel.
Operation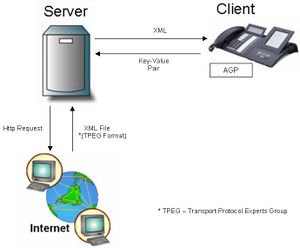 Operational Overview:
A Traffic Info application on the phone interacts with the server using XML. The server provides XML to the phone which the application renders into a screen for the user to interact with. The user's interaction with the phone results in key-value pairs being passed back to the server for processing.
The server in turn sends a HTTP Request to web-based services and obtains an XML file in TPEG (Transport Protocol Experts Group).
The server then sends the XML page retreived from web-based services to the IP Phone.
Key Features
Application can be easily configured to access TPEG (Transport Protocol Experts Group) XML source.
Several items of information can be viewed of a traffic event such as location, severity, traffic condition etc.
It is possible to search traffic by roadname, townname, countryname etc.
Users can create filters to enable them to view at a glance traffic relevant to them.
Create Alerts For certain Traffic Situations
Users can create alerts that will alert the user of any traffic situation that has occured enabling them to take necessary measures.
See also