OpenScape Xpressions
The Wiki of Unify contains information on clients and devices, communications systems and unified communications. - Unify GmbH & Co. KG is a Trademark Licensee of Siemens AG.
<accesscontrol>Bm32404,,Horemu</accesscontrol> OpenScape Xpressions V6 is a Unified Messaging Service which integrates the following services: voice mail, fax mail, E-mail and Short Message Service (SMS). With Xpressions V6 this was enhanced to cover Unified Communications including Presence, IM, Audio- and Web-Conferencing. The new OpenScape Web Client was also added.
Application
OpenScape Xpressions V6 is employed in modern enterprises for whom an information flow, flexibility, and speed are decisive factors in their success.
Scalability
Its modular, scalable client/server architecture means that OpenScape Xpressions V6 can be adapted to fulfill enterprises' communications requirements to the optimum. Customers can select services, users, DP integration, software-only solutions or certified complete systems according to their requirements. From the small-scale introductory variant to the networked communications solution, a tailor-made solution can be supplied to meet any requirements.
Investment security
Open standards, integration into existing DP and telephony environments, universal access to messages by PC and telephone and secure access via ISDN, LAN and Internet guarantee investment security for the future.
Platforms
OpenScapeXpressions V6 runs under a Windows Server 2003/2008 operating system in conjunction with these communication platforms:
HiPath DX
Hicom 150 E/H
Hicom 300 E/H
Additional Features
OpenScape Xpressions V6 is the further development of HiPath Xpressions 450 and is based on the MRS 8.01 technology of Cycos AG. The difference between this and the MRS solution lies solely in the features and functions available at Siemens:
Unified Messaging with a PhoneMail-oriented user interface
Unified Messaging with a VMS-oriented user interface
[CorNet|CorNet-N] integration for Hicom 300/300 E (including display support for digital telephones), Hicom 150 Office and HiPath 3000/HiPath 5000
CorNet-NQ integration into HiPath 4000
CorNet-IP integration to HiPath 4000
SIP/T.38 integration to OpenScape Voice
"My Xpressions" folder as a separate incoming mailbox for particularly important messages as an expansion of the PhoneMail user interface
"Name Dialing" as an additional option for addressing and using messages when setting up a connection, as an expansion of the PhoneMail user interface
Forwarding of OpenScape Xpressions V6 alarms to HDMS / HiPath Fault Management and other management systems (via SNMP)
Inclusion in HiPath User Management
UC Features
OpenScape Xpressions V6 offers presence and IM functionality for all CTI users of Xpressions. The conference extension facilitates scheduling and monitoring conferences. It provides the following conference options:
Scheduling and initiating a voice conference (telephone conference).
Scheduling and initiating a web conference.
Scheduling and initiating a combined voice/web conference.
Monitoring the scheduled and initiated telephone conferences via the OpenScape Web Client.
The OpenScape Web Client allows:
Initiate and administrate calls
plan and start a conference
Initiate conveniently Ad-hoc- or Meet-Me-Conferences, start or administer predefined conferences or plan a future conference.
produce and maintain a contact list
Maintain the contact data and verify, if a contact can alternatively be reached via Voice or E-mail.
In Action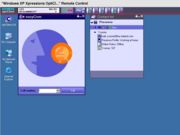 OptiClient for OpenScape Xpressions
The Siemens optiClient Extensions are the new Full CTI extensions of OpenScape Xpressions V6. They allow to control the optiPoint device from the computer. The presence Apl together with the Exchange Connector is changing the availability status of the employees automatically according the Outlook Calendar. Different call handling options can be configured depending on the status you select (e.g. Working at home – The HiPath is forwarding all calls to the mobile phone)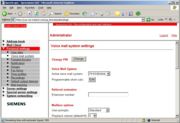 OpenScape Xpressions Web Assistant
OpenScape Xpressions offers a web GUI that can be used to access your voicemail, text or email messages using a PDA or Blackberry on the road. It allows for example to change your answering options, upload greetings as wave files and send messages.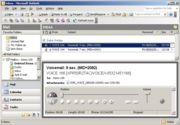 Server Based Client Extensions
ActiveX extensions offer dynamic email content for mails sent by HiPath Xpressions. They provide a playback button and playback options. The playback can be done locally using PC speakers or via a telephone. They also include some new option buttons to send faxes and text messages with Microsoft Outlook.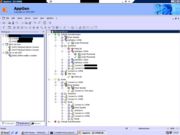 OpenScape Xpressions AppGen
The Application Generator is used to configure complex automated attendants. From a basic press one for extension A and two for extension B, it also allows complex database queries for example a customer rings in, enters a pin code and the Xpressions looks up some customized information and plays is back using RealSpeak Text To Speech. The interaction with other Xpressions internal scripts like the SMS Apl or Phonemail are features that allow the setup of very flexible and stable automated answer mechanism that also can be used as IVR.
See also
External links
Guides and Support