How to connect openStage 60/80 to ODS
The Wiki of Unify contains information on clients and devices, communications systems and unified communications. - Unify GmbH & Co. KG is a Trademark Licensee of Siemens AG.
Error creating thumbnail: File missing
Preface
This How To describes the connection of OpenStage 60 or 80 device to the Open Directory Service.
It is written based on OSO version V3R2. Deviations may occur, if higher versions are used.
Only the ODS relevant setting are described here. For general OpenStage LDAP configuration issues have a look at:
All data shown here and also the screenshots are examples only, which are used to demonstrate the capabilities.
Prerequisites
Before you start, you have to check some prerequisites otherwise the connection fails.
Fully installed and operational OSO system
ODS is active within the OSO system
ODS is successfully connected to an external database
OpenStage 60/80 (HFA) phone is conneced to OSO
IP address of the OpenStage phone
Configuration of OpenStage 60
Within the following the configuration of an openStage 60 phone is described without using an deployment server.

For configuration the Web-Based Management of openStage 60/80 is used.
After typing in https://OS-ip-address into a Internet browser,the web based managemnet of the phone is opened. (OS-ip-address is used here a placehoder for the ip-address of the phone. Select administration mode and enter the appropriate password.
Access to ODS LDAP Server
In a first step the access date for the OSD LDAP server must be entered. Cherfore choose "Local functions" --> "LDAP settings" from the menue

and type in the access data for the ODS LDAP Server as shown in the next picture.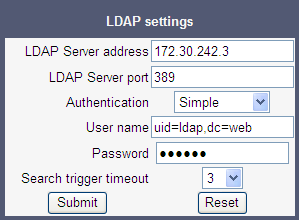 Do not forget to replace IP address etc. with the real values. User name and password are those, which were defined within the ODS LDAP configuration.
Create LDAP Template for ODS
In a second step a LDAP template for ODS has to be created.
The template has to be created in a simple text editor as a plain text file, which contains the following assignment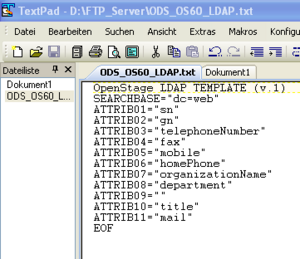 The file must be stored with txt as file extention. E.G. ODS_OS60_LDAP.txt
Upload LDAP Template into OpenStage Phone
In the third step the OpenStage Phone has to download the file from an FTP server. To do so the following action are necessary.
Setup an FTP server if no FTP server is at hand
Upload file to the FTP server
Administrate phone settings to access the FTP server
Perfom file download
is to upload the LDAP template into the openStage Phone. To do so a FTP Server is required. OpenStage cuired