Difference between revisions of "Example XML Applications for OpenStage"
The Wiki of Unify contains information on clients and devices, communications systems and unified communications. - Unify GmbH & Co. KG is a Trademark Licensee of Siemens AG.
---
Revision as of 16:10, 29 February 2008
Here you find information about example XML Applications to use on your OpenStage 60/80. These applications are hosted on our Testfloor server, and thus can be run straight away by any OpenStage 60/80 with internet access.
For instructions on setting up an XML application, see the Preview:How to set up an OpenStage XML Application.
Applications Accessing Web Services
RSS Feed
RSS Feed Reader for OpenStage 60/80.
For an online presentation, see Preview:XML_APP_RSSFeed-Presentation.
You can download a PDF version of the presentation here:

  XML_RSSFeed-PDF
The software package is available for download here:

  XML_app-RSSFeed
For running this application on your OpenStage phone, just enter the parameters listed here: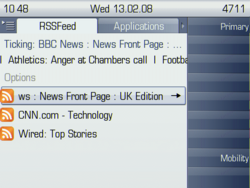 | Parameter | Value |
| --- | --- |
| Display name | RSSFeed |
| Application name | RSSFeed |
| Server address | 87.106.21.36 |
| Server port | 8080 |
| Protocol | http |
| Program name | RSSFeed/RSSFeed |
| Use Proxy | Yes/No (Depends on your internet access configuration) |
Weather Reporter
Weather report and forecast for OpenStage 60/80.
For an online presentation, see Preview:XML_APP_WeatherReport-Presentation.
You can download a PDF version of the presentation here:

  XML_APP_weatherReport-PDF
The software package is available for download here:

  XML_app-Weather
For running this application on your OpenStage phone, just enter the parameters listed here: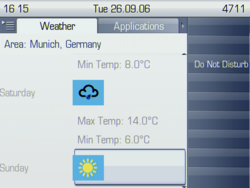 | Parameter | Value |
| --- | --- |
| Display name | Weather |
| Application name | Weather |
| Server address | 87.106.21.36 |
| Server port | 8080 |
| Protocol | http |
| Program name | WR/WR |
| Use Proxy | Yes/No (Depends on your internet access configuration) |
Traffic Information
Traffic information for OpenStage 60/80.
For an online presentation, see Preview:XML_APP_trafficInfo-Presentation.
You can download a PDF version of the presentation here:

  XML_APP_trafficInfo-PDF
The software package is available for download here:

  XML_app-trafficInfo
For running this application on your OpenStage phone, just enter the parameters listed here: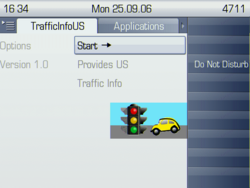 | Parameter | Value |
| --- | --- |
| Display name | TrafficInfoUS |
| Application name | TrafficInfoUS |
| Server address | 87.106.21.36 |
| Server port | 8080 |
| Protocol | http |
| Program name | TrafficInfoUS/TrafficInfoUS |
| Use Proxy | Yes/No (Depends on your internet access configuration) |
View current stock and shares information on the OpenStage 60/80.
For an online presentation, see Preview:XML_APP_stocksAndShares-Presentation.
You can download a PDF version of the presentation here:

  XML_APP_stocksAndShares-PDF
The software package is available for download here:

  XML_app-stocksAndShares
For running this application on your OpenStage phone, just enter the parameters listed here: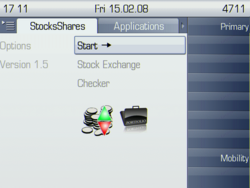 | Parameter | Value |
| --- | --- |
| Display name | StocksShares |
| Application name | StocksShares |
| Server address | 87.106.21.36 |
| Server port | 8080 |
| Protocol | http |
| Program name | StocksShares/StocksShares |
| Use Proxy | Yes/No (Depends on your internet access configuration) |
Multimedia Applications
Webcam Viewer
View images from a choice of webcams and combine them as a slideshow, if desired.
For an online presentation, see Preview:XML_APP_webcamViewer-Presentation.
You can download a PDF version of the presentation here:

  XML_APP_webcamViewer-PDF
The software package is available for download here:

  XML_app-webcamViewer
For running this application on your OpenStage phone, just enter the parameters listed here: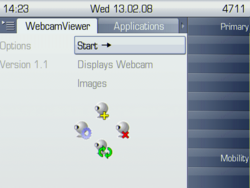 | Parameter | Value |
| --- | --- |
| Display name | WebcamViewer |
| Application name | WebcamViewer |
| Server address | 87.106.21.36 |
| Server port | 8080 |
| Protocol | http |
| Program name | WebcamViewer/WebcamViewer |
| Use Proxy | Yes/No (Depends on your internet access configuration) |
Miscellaneous Applications
QuizMaster
Multiple Choice Quizzes that can be created via a web portal.
For an online presentation, see Preview:XML_APP_quizMaster-Presentation.
You can download a PDF version of the presentation here:

  XML_APP_quizMaster-PDF
The software package is available for download here:

  XML_app-QuizMaster
For running this application on your OpenStage phone, just enter the parameters listed here: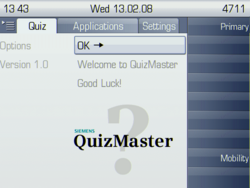 | Parameter | Value |
| --- | --- |
| Display name | QuizMaster |
| Application name | QuizMaster |
| Server address | 87.106.21.36 |
| Server port | 8080 |
| Protocol | http |
| Program name | Quiz/Quiz |
| Use Proxy | Yes/No (Depends on your internet access configuration) |
InfoDesk
A generic application that can be used to promote advertisements of products and services. Additionally, it allows an associated customer hotline to be called. Possible uses are, for example: ticket booking, ordering food off a menu, product sales, Hotel booking.
For an online presentation, see Preview:XML_APP_infoDesk-Presentation.
You can download a PDF version of the presentation here:

  XML_APP_infoDesk-PDF
The software package is available for download here:

  XML_app-InfoDesk
For running this application on your OpenStage phone, just enter the parameters listed here:
| Parameter | Value |
| --- | --- |
| Display name | |
| Application name | |
| Server address | 87.106.21.36 |
| Server port | 8080 |
| Protocol | http |
| Program name | |
| Use Proxy | Yes/No (Depends on your internet access configuration) |
See also