Deployment Service
The Wiki of Unify contains information on clients and devices, communications systems and unified communications. - Unify GmbH & Co. KG is a Trademark Licensee of Siemens AG.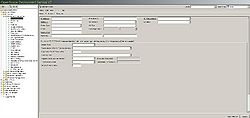 The Deployment Service (DLS) is a stand-alone Unify management application for central administration of the following IP Devices (both SIP and HFA) in VoIP networks:
IP Gateways and HiPath/OpenScape platforms:
DLS is the central component with which devices and QoS parameters of IP devices are administered for the customer's entire OpenScape/HiPath or non HiPath solution.
The latest released version is OpenScape Deployment Service V10 R0 (CV606).
The OpenScape DLS is designed as a client/server application.
The client (DLS-GUI: Graphical User Interface) is written in Java and requires a standard web browser and JRE as Java runtime engine.
The server is also written in Java.
Two DLS server variants are available:
DLS as standalone installation (singlenode or multinode) on MS Windows Server 2016 / 2019 Standard & Datacenter Edition.
DLS installed on-oboard on an OpenScape Voice platform (DLS is delivered with OpenScape Voice Assistant DVD application package).
In addition to standard DLS-GUI based operation, most DLS functions can also be operated by external applications over a web service interface, the DlsAPI.
DLS System Requirements
Minimum hardware requirements for the DLS client PC : JRE 1.7 (Client) ; Browser : Any browser that supports Java 7 plugin,e.g Internet Explorer,Firefox,Chrome,Opera,Safari
Minimum hardware requirements for the Single Node DLS Server :
| | |
| --- | --- |
| | DLS Standalone |
| CPU | 3.1 GHz CPU (Intel Xeon E3-1220,4C/4T) |
| RAM | 8 GB |
| Ethernet | 100 MBit (1 GBit is recommended) |
| Disk Space | 80 GB |
Minimum hardware requirements for the DLS Server on a Multi-Node Deployment :
| | |
| --- | --- |
| | DLS Multi-Node |
| CPU | Intel Xeon Quad Processor >=2.9GHz |
| RAM | 8 GB |
| Ethernet | 100 MBit (1 GBit is recommended) |
| Disk Space | 300 GB |
Minimum hardware requirements for the Database Server on a Multi-Node Deployment :
| | |
| --- | --- |
| | Database Server |
| CPU | Intel Xeon Quad Processor >=2.9GHz |
| RAM | 8 GB |
| Ethernet | 100 MBit (1 GBit is recommended) |
| Disk Space | 80 GB |
Minimum hardware requirements for a Witness Server :
| | |
| --- | --- |
| | Witness Server |
| CPU | Intel Dual Core Processor 3 GHz |
| RAM | 2 GB |
| Ethernet | 100 MBit (1 GBit is between the servers) |
| Disk Space | 20 GB |
Microsoft® SQL Server™ 2012 / 2016 Enterprise Edition can be used, but requires 4 GB at minimum. This database must be provided by the customer. DLS supports Microsoft® SQL Server™ 2012 / 2016 Enterprise Edition
NOTE: For usage of Microsoft SQL 2012/2016 Enterprise Edition, appropriate Microsoft licences are needed. As a rule CPU licenses should be used, usage of device CAL (Client Access License) is possible as well where one device CAL is needed for each supported device. The provision of hardware and Microsoft licenses is not part of the DLS order items and need to be considered separately.
Operating Systems for all Deployments:
All servers (DLS, Witness, Mirror) must be installed with Windows 2016 / 2019 Standard or Datacenter Edition; SUSE Linux Enterprise Edition (Only for the Integrated Simplex Deployment);
All operating systems are supported in a 64-bit variant with the latest service pack & security patches
Most important DLS features
User Interface: The DLS is a web service-based application with a web-based user interface (Browser). It offers certain basic functions (such as access control, logging, web server, etc.) that are already included in the DLS software.
Access Control: Access control is implemented by a password-protection mechanism for activating and accessing DLS. A Rights Management system is available to allow restricted access to certain configuration masks (read and write access, read-only access, no access).
Communication to the DLS server occurs via HTTP and HTTPS.
Configuration & Inventory management: The Configuration & Inventory management in DLS is the central entity for displaying and managing IP device data. Configuration Management is used by both the customer administrator as well as Service (remote/on site).
Inventory management includes the configuration data of IP devices. This information can be easily accessed via a graphical user interface. In addition, the inventory data can also be exported to CSV files and templates in XML format. There are also functions for restarting, pinging, scanning and reading data from IP devices.
Software deployment: The Software Deployment function enables the administrator to easily upgrade individual or all optiPoints in the network.
(optiClients are also supported. DLS offers a support function for this purpose, where the client is informed where the new software is located)
System Monitoring: DLS System Monitoring delivers information on the system, especially alarms and fault messages automatically from the system components as base for maintenance actions.
DLS RapidStat is the Monitoring feature tool responsible for running diagnostic checks on a DLS machine. It's an information collection tool that helps the DLS administrator both prepare a system for a DLS installation / upgrade and helps him troubleshoot a possible problem. The name of the tool is taken from the OSV equivalent. A separate tool, traceDls ,is responsible for collecting all log files, traces and any other files useful for troubleshooting,as well as archiving and placing them to an easily accessible directory for retrieval.
Plug&Play function: The DLS supports Plug&Play, that is automatic configuration of a phone as well as provision with up-to-date software on phone startup. DLS is "Plug & Play"-capable, which means that an IP phone such as optiPoint and OpenStage can be practically put into service immediately as soon as it is connected to the network. The user only has to perform the authentication process at the IP phone by entering the complete phone number (E.164 No.) and the password (system option). As soon as the IP phone is connected, it is automatically supplied with all local and network-related parameters as well as the current software.
User Mobility for IP phones (only released for OpenScape Voice solutions and pure SIP environment): With the Mobility feature, a user's personal configuration and data, for instance key layout, phonebook, or call lists, becomes portable. The user data is stored and deployed on demand by the DLS.
Scalability/Resilience: As an option, a separate MS SQL EE can be installed for higher scalability and performance.
PKI Connector: The DLS PKI Connector provides a ready to use plug-in for standard PKI environments based on Windows Server 2008 and Windows Server 2008 R2. With this connector the DLS can request certificates every time when a certificate is needed, e.g. when auto configuration is executed or when a certificate valid time ends.
Open Communications Solution for Location and Identity Assurance (former SALERNO) Open Communications Solution for Location and Identity Assurance (OS LIA) is a solution that consists of the Enterasys NAC suite of products closely interlinked with the OpenScape Deployment Service (DLS) through a Web Services API, combining the management information of data and voice networks.
The unique combination of information enables the location of VoIP devices and therefore a great variety of use cases and creates substantial benefits for the communications operations of the enterprise.
Migration: DLS offers upgrade licences from DLS V6 to change former licensed features into DLS V7 features.
Multi Tenancy: As an option DLS can be installed supporting multiple tenants. Every administrator is allowed to work with assigned tenants only.
XML Applications: As an option, DLS can manage and distribute XML applications for phones supporting this feature.
Password Policy: You can use your own password policy rules for DLS.
Import/export: Import/Export must be supported for the initial installation, in particular, and can also be used to save relevant data. To support the initial installation, it is possible to export the system data of customer A, for example, adapt it for the system of customer B, and then import it into the system of customer B.
Capacity Limits and Restrictions
DLS can suppport up to total of 100,000 end devices with an external MS SQL. Since the maximum can vary based on configuration, please refer to the DLS Planning Guide or the DLS Database Calculator (embedded in the Release Notice) for details.
Full Plug&Play functionality requires a DHCP/DNS infrastructure in the network, which has been configured for operation with the DLS.
You can only install one DLS per DHCP domain in the network.
The DLS user interface is available in German and English.
Customer Benefits
User Mobility to allow anyone to log into any guest phone in any location and instantly receive all their phone settings and customizations.
Easy device installation or replacement using Plug&Play without the need for an on-site tech which lowers install and support costs.
Scheduled software updates minimize disruptions to the business.
Documentation
Online Help / Administration Manual
DLS is shipped with a comprehensive context-sensitive online help. This documentation is also available as PDF file.
The most up-to-date version is always part of the latest DLS delivery.
In the Windows version of DLS, you will find it at: <DLS installation path>\DeploymentService\doc
Latest versions for download:


DLS V7:
See also