Configuring a Java/XML proxy
The Wiki of Unify contains information on clients and devices, communications systems and unified communications. - Unify GmbH & Co. KG is a Trademark Licensee of Siemens AG.
In most companies you access the internet via a Web proxy. To display internet-based applications on your optiPoint application module like Java/XML applications the proper proxy configuration is required.
Check proxy configuration
To check the proper proxy configuration, just open your web browser and click:
Extras > Connections > LAN Settings if there is a proxy or proxy script configured.
Alternativly you can ask your IT adminstrator for the proxy settings used in the company.
Change phone configuration
To configure the proxy IP address on the phone, open your phone's WBM and click:
Administration > (Password) > Applications > Java Midlets.
Enter the appropriate HTTP gateway/proxy address, in some (very seldom) cases an additional login info.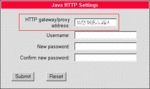 To configure the proper proxy-port, please click:
Administration > (Password) > System > Port Settings.
Enter the appropriate port number for Java Gateway (normally: 80).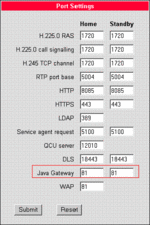 This settings apply to Java and XML. The built-in XML-parser uses underlying Java technology.