optiPoint 410/420 Upload von Firmware und Applikationssoftware mit NetBoot Server
The Wiki of Unify contains information on clients and devices, communications systems and unified communications. - Unify GmbH & Co. KG is a Trademark Licensee of Siemens AG.
| | |
| --- | --- |
| | This article or section is currently under construction. In order to avoid editing conflicts, please wait until this message is removed or contact the author (Horemu 19:14, 5 October 2006 (CEST)). |
Netboot Anwendung
Den Netboot Server für einen upload verwendet man dann, wenn
Die Netboot Software des Telefons nicht mehr aktuell ist
Das Telefon nicht mehr bootet und daher z. B. nicht mehr über die Web-Schnittstelle erreichbar ist
Für den Download brauchen Sie
Das NetBoot-Server-Programm für den PC (gibt es auch über das Internet)
Ein TFTP-Programm (z. B. den 3CDeamon von 3Com)
Übertragen werden:
Die aktuelle bzw. zu ersetzende Telefonsoftware mit der Extension "fli" (z. B. 410adv_SIP_6_0_55.fli)
Ggf. eine neue Version der Netboot-Software des Telefons (z. B. netboot201.fli)
Vorbereitung
Installieren Sie den NetBoot- und den TFTP-Server auf dem PC, falls das noch nicht geschehen ist.
Besorgen Sie die zu übertragenden Dateien bzw. halten Sie sie bereit
Starten und konfigurieren des TFTP-Servers
Nachdem der TFTP-Server gestartet ist, Tragen Sie im entsprechenden Feld das Donwload/Upload-Verzeichnis ein,
in dem Ihre Dateien abgespeichert sind.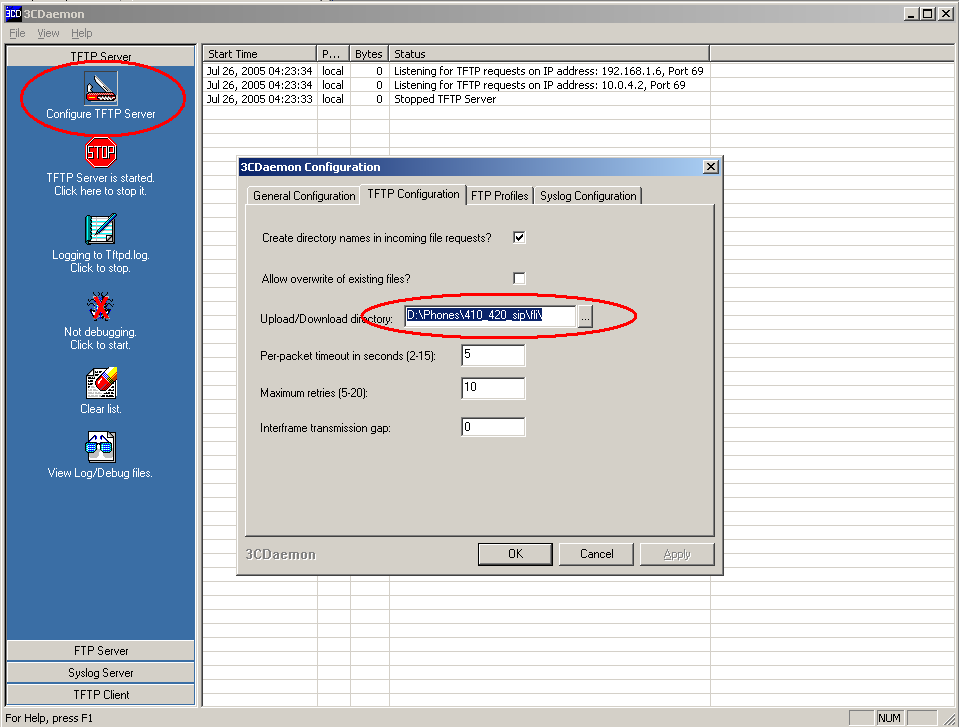 Starten und konfigurieren des Netboot-Servers
Starten Sie jetzt Ihren NetBootServer. Sie erhalten z. B. folgendes Fenster:
File:01 open NetBoot.jpg
Klicken Sie im Menü "Database" auf die Option "Add Entry" oder doppelklicken Sie auf einen vorhandenen Eintrag z. B. "OP410opti...". Sie erhalten folgenden Dialog:
File:02 open item.jpg
Falls unter Alias noch keine Name eingetragen ist, so geben Sie hier eine zurordnende Bezeichnung ein.
File:03 change boot file.jpg
Im Feld "Boot File" tragen Sie die Datei ein, die geladen werden soll. Das kann entweder eine Applikation oder eine neue Netbootversion sein z. B.:

410adv_SIP_6_0_58.fli oder
netboot201.fli
Markieren Sie die Optione "Fixed Address" und tragen Sie im Feld "Fixed Address" eine IP-Adresse ein, die das Telefon haben soll, nachdem es im "Netboot-Modus" gestartet ist.
File:05 change MAC address.jpg
Markieren Sie die Option "Single Address" und tragen Sie im Feld "Single Address" die MAC-Adresse des betroffenen Telefons ein.
Setzen Sie noch die Option "Activ" und schließen Sie Ihre Eingaben mit OK ab.