Difference between revisions of "optiClient 130 S (obsolete)"
The Wiki of Unify contains information on clients and devices, communications systems and unified communications. - Unify GmbH & Co. KG is a Trademark Licensee of Siemens AG.
m

 

(2 intermediate revisions by the same user not shown)
Line 143:
Line 143:
 
 
 

== External Links ==

 

== External Links ==

−

* [http://enterprise.siemens.com/open/uk/opensolutions/enterpriseplatforms/hipathbizip/default.aspx Siemens Open Communication]

+

* [http://..com/uk/ Siemens Open Communication]

−

* [https://enterprise-businessarea.siemens.com/irj/portal/com-seba/public/en/home/PartnerNet Siemens Enterprise Business Area (SEBA)] (login required, Internet Explorer only)

+

* Siemens Enterprise Business Area SEBA(login required, Internet Explorer only)

 
 
 
 
 

[[Category:Software]]

 

[[Category:Software]]
---
Latest revision as of 15:00, 29 May 2013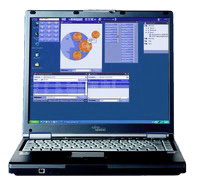 optiClient 130 S V4 is a PC client for voice and video communication based on the SIP protocol. optiClient 130 S adds a powerful softclient solution to the Siemens portfolio of SIP-based optiPoint phones, for all HiPath systems.
Overview
optiClient 130 S is compatible with (IETF) standards for SIP.
The product is ideal for operation in conjunction with Siemens HiPath systems and supports their advanced features (line keys, for example)
Releases are not currently planned for other platforms.
Telephone software distribution and configuration is performed with the DLS (Deployment Service) tool. DLS supports plug&play operation.
Note: Due to lack of support on the switches, only the following features have been released for HiPath 2000 / 3000 / 5000 systems: Accept incoming call, Make outgoing call, Consultation
Description of Features
The optiClient 130 S V4 is modular in structure and consists of a system of function elements that guarantee maximum flexibility and alignment with the requirements of the user. These elements include:
Main bar – The main bar is the central element that, together with the modules listed below, determines the features available and how they are displayed for the user.
Interface modules – For implementing the extensive function range available in windows and dialog boxes, including the phone module for telephony features, the Audio Manager for operating audio telephones, call lists and address books.
Provider modules – The communication system or service provider connected to optiClient 130 can be set here.
Manager modules – These background modules perform communication control tasks and include the Keyboard Manager and the ScreenSaver Manager.
Video modules – The actual video image and the external partner or both conference partners are displayed here.
User interface
The optiClient 130 user interface consists of a main bar (system bar) that contains a number of associated dialogs for selecting the individual functions and settings and identifying the ringing state.
User interface features:
The optiClient main bar can be positioned at random on the desktop.
Open windows can be dragged from the main bar and positioned at random on the screen.
Extended keypad
This option lets the user add programmable keys to the keypad. The maximum number of columns, the number of function keys per column and how the function keys are programmed depend both on the preferred settings and the HiPath provider connected.
The application's individual modules can be dragged from the main bar and randomly positioned on the screen. This means that frequently used functions, such as speed-dial keys, can be anchored at random on the screen.
Line keys
optiClient 130 S version 4 provides a number of line keys for the user. This makes it suitable for use as a executive/secretary device.
optiClient 130 S V4 also features a module known as easyCom (see screenshot under Overview) that is based on a straightforward and intuitive principle. Users are in the center of the "communication circle" and communicate by moving their communication partners from the address book to the communication circle via drag&drop with the mouse.
New and modern user interface that can be customized to suit the user's requirements
Enhanced telephony functions, such as the extended keypad
Ideal solution for mobile workers – the user always keeps the same internal station number, irrespective of location
Individual access rights and other parameters remain, such as, the initiated call forwarding and do-not-disturb features
Use of multiple LDAP directories is supported and improves daily workflow through the use of corporate address books, Outlook Contacts, etc. to simplify searches and speed up dialing operations
Quality of Service support (802.1p)
LIN (Local Identification Number)
Special optional screen saver that signals the station number
Dialing via the keypad, from corporate address books, other LDAP address books, call lists, using drag and drop or copy and paste
Documentation
Customer Benefits
The existing IP infrastructure for the PC (such as LAN cables, DSL access points) can also be used for voice and image communication.
All communication directories available on the PC(LDAP for company directories, personal directories, Outlook contacts) can be easily utilized for telephony.
Video support brings a new dimension to communications and can also be used for three-way conferences.
Optimum support for mobile users – voice and image communication is now possible wherever the PC has access to the IP network. Users can be reached at their regular number no matter where they are currently located.
The first target group comprises those HiPath platform customers who operate communication services in centralized data networks - either for their own internal purposes or in order to offer outsourced services (HiPath Managed Services).
The second target group operates in the "Hosted Communication" market. in which "Carriers" (providers of public telecommunication services) offer IP-based voice communication to small and medium-sized businesses. These businesses can access a provider's "Hosted Services" and thus enjoy the benefits of outsourced communication services. For this purpose Siemens Com FN offers the SURPASS Business Connection Solution based on hiQ4200.
A PC-based application, this is primarily intended to supplement (e.g. for teleworking) or replace (for mobile users) a conventional (optiPoint) terminal.
Unique Selling Proposition
Sophisticated user interface that satisfies the ergonomic requirements of a communication medium and also supports integration with other applications on a PC (for example, task bar, flexible modules).
Uniform user interface – both for optiPoint phones (menu system) and for customers who want to migrate from a CorNet-IP installation with optiClient to an SIP installation.
Support for the SIP standards and all features of the HiPath systems. The introduction of optiClient 130 S transforms Siemens into a single-source supplier for complete communication solutions – including the Deployment Service tools for software distribution and administration.
Same "look and feel" as with the HFA software client optiClient 130 V5.1
Customer Requirements and Functional Constraints
PC requirements
Operating system*: Windows 2000 (SP4 or higher) or Windows XP (SP2 or higher). Always use the latest operating system software release.
Processor: 1 GHz or higher recommended
RAM: min. 200 MB free RAM for optiClient processing
Microsoft Windows Installer 3.1
.NET Framework 2.0
At least 150 MB of free memory on the hard disk
CD-ROM drive
Ethernet network card for Quality of Service (QoS) function with 802.1p support
USB support, for connecting handsets or headsets as an audio device
The H.264 codec uses floating point operations, only available on processor types with SSE2 support. Processor min. 3 GHz when using H.264.
Licensing requirements
The following boundary conditions for marketing the features of optiClient 130 S V4 in conjunction with HiPath License Management (for example, distributed licensing, license management) must be agreed by the sales organization and the customer before concluding a contract.
Provision (CUSTOMER) or marketing of a PC for implementing the customer solution (HiPath License Management CSC components)
Integration of the Tomcat servlet engine (supplied with the CSC components) in the customer network
Provision of the necessary information in the customer's network (see IOR checklist)
Prerequisites for use of security features
optiClient date must be configured via DLS.
Network requirements/QoS
Switched network, all components are IEEE 802.1p/q-compliant. The IP infrastructure must satisfy the requirements as described in the guidelines for HiPath Network Analysis (see also Section 1.8 Services). Please note that QoS support depends on the operating system used.
Audio devices
Recommended USB audio devices The following link takes you to a list of recommended USB audio devices: Netinfo (Siemens internal only)
Speakerphone mode/open listening
The "Platosys CT 220" USB handset (supplied by Platz) can be used as an external microphone and loudspeaker. At present there are no other audio telephones that guarantee satisfactory levels of quality for open listening and/or speakerphone mode and comply with the CE standard.
Sound cards
Full-duplex sound cards can be used if they can synchronize with H.323. If the sound card, in particular on-board sound cards in notebook computers, do not offer adequate voice quality, we recommend upgrading to a USB audio device.
Extended keypad
The number of columns available and the keys available per column are determined by the HiPath provider connected and the user settings. The extended keypads are considered hardware expansions to Siemens hardware telephones. If a user configures more keypads than supported by the provider, excess keypads are dimmed.
Selecting four-line terminals and displaying them in a two-line "integrated telephone"
When you select terminal types with a four-line display (optiPoint 4x0 advance) it is technically not possible to display the corresponding lines on the two-line display of the "integrated telephone" when performing certain operating procedures. If users find this disruptive, they can revert to using the "free telephone", which always displays all four lines correctly.
Screen display
optiClient 130 is best displayed by setting the screen to True Color (32 bit) colors. The "Large Fonts" mode cannot be used with optiClient; an optimal display of the user interface can only be guaranteed with the "Small Fonts" setting (Normal Size 96 dpi).
Further constraints
optiClient 130 may require partial reconfiguration following an upgrade of the operating system from Windows 2000 to Windows XP. This is due to changes in the operating system.
Implementation and Networking Scenarios
optiClient 130 S can be installed on any standard PC running the Windows 2000 or Windows XP operating system and can be integrated into the customers' VoIP network using the existing network card.
Licensing via HiPath License Management
Coming soon
Migration
An upgrade license is available for migrating from V2.0. It is also possible to migrate from an optiClient 130 V5.1 (HFA) to the new SIP version by means of a reduced upgrade license
Positioning in Relation to Products from the Unify Product Portfolio
optiClient 130 S V4 is the SIP variant of the soft client for all HiPath switches incl. Carrier portfolio. optiClient thus extends the product portfolio, offering the same "look and feel" as the HFA variants and the functional scope of the optiPoint phones.
Training
Coming soon
External Links
Siemens Enterprise Business Area Partner Portal (login required, Internet Explorer only)