Traffic Info
The Wiki of Unify contains information on clients and devices, communications systems and unified communications. - Unify GmbH & Co. KG is a Trademark Licensee of Siemens AG.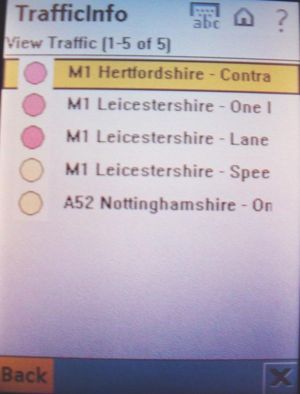 Scope
The application enables the user to access up to date traffic news from their IP phone. It also alerts the user to incidents that may cause them to be delayed, giving the user a chance to change their route or find an alternative mode of travel.
Operation
Operational Overview :
Key Features
Application can be easily configured to access TPEG XML source.
Several items of information can be viewed of a traffic events such as location, severity, traffic condition etc.
It is possible to serach traffic by roadname, townname, countyname etc.
Users can create filters to enable them to view at a glance traffic relevant to them.
Create Alerts For certain Traffic Situations
user can create alerts that will alert the user of any traffic situation that has occured enabling them to take necessary measures.