Send URL
The Wiki of Unify contains information on clients and devices, communications systems and unified communications. - Unify GmbH & Co. KG is a Trademark Licensee of Siemens AG.
Introduction
The Send URL function on the OpenScape Desk Phone CP devices, allows a user to send a predefined HTTP or HTTPS request to a server in order to trigger a remote action. The functionality is available from a free programmable key (FPK), that has been configured for this feature. In the server response to a phones HTTP or HTTPS request, the phone can be triggered to (e.g.)
turn on the LED of the configured FPK (in different colours)
use a different blinking mode
overwrite the FPK label (CP600 only)
Technical details
The request can be sent in plain HTTP or encrypted HTTPS
The request can be of type GET or POST
The phone will not follow any type of redirect (3XX)
Authentication User ID and password will be sent as Parameters (no HTTP Basic Authentication)
When using HTTPS, the connected server can be validated according to the Authentication Policy (see Administration Guide)
Configuration
A Send URL FPK can be configured via web based management or DLS. Please see example screenshot from WBM.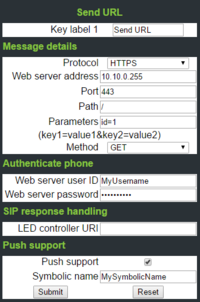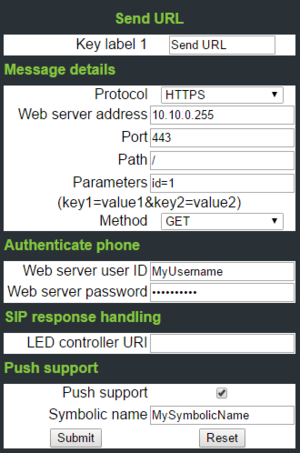 This FPK (if pressed) will trigger the following request
 https://10.10.0.255:443/?userid=MyUsername&password=MyPassword&id=1&item=2&ipaddress=<IP-OF-DEVICE>&phonenumber=<E164-OF-DEVICE>&devicetype=OpenStage&symbn=MySymbolicName