OpenStage Schulung
The Wiki of Unify contains information on clients and devices, communications systems and unified communications. - Unify GmbH & Co. KG is a Trademark Licensee of Siemens AG.
<accesscontrol>OS-Training</accesscontrol>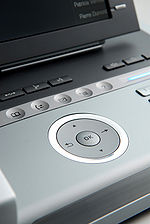 Diese Seite gibt Ihnen einen Überblick über alle verfügbaren Schulungsmedien für OpenStage-Telefone.
Quick Reference Cards (basierend auf OpenStage SIP V2 R1)
Die Quick Reference Cards helfen Ihnen, sich mit den Grundfunktionen der OpenStage-Telefone vertraut zu machen. Öffnen Sie das gewünschte PDF im Webbrowser oder laden Sie es sich auf Ihren PC herunter.
Die Überschriften der meisten Bedienprozeduren darin enthalten anklickbare Verweise. Sie führen zu Videos, die Ihnen eine detaillierte Schritt-für-Schritt-Demonstration der Funktionen zeigen.
Drucken Sie sich Ihre Quick Reference Card aus und legen Sie sich diese unter Ihr Telefon. So haben Sie die Beschreibung der wichtigsten Funktionen immer griffbereit. Wenden Sie sich bitte an Ihren Vertriebspartner, um die Quick Reference Card in qualitativ hochwertig gedruckter Form zu erhalten.
Schulungsvideos
Ein Telefon mit so vielfältigen Funktionen wie das OpenStage nur anhand von technischen Beschreibungen und Grafiken kennen zu lernen, ist schwierig und aufwändig. Deswegen haben wir für Sie einige Kurzvideos vorbereitet, mit deren Hilfe Sie schnell die Vorzüge Ihres OpenStage Telefons kennenlernen. Klicken Sie einfach auf einen der Video-Links neben dem Leistungsmerkmal, zu dem Sie die Bedienung sehen möchten. Das passende Video wird direkt in Ihrem Browser angezeigt.
Laden Sie dieses Video als MP4-Datei in verschiedenen Größen herunter: High (11.4 MB) | Low (1.7 MB)
The media player is loading...
Referent: Robert Arandjelovic, Produkt Marketing Geräte
Bleiben Sie auf dem Laufenden und bookmarken Sie diese Seite! Hier finden Sie die aktuellsten Hintergrundinformationen und Neuerungen zu Ihrem OpenStage Telefon.
Quick Reference Card Szenarios (basierend auf OpenStage SIP V2 R1)
OpenStage 40
Länge
OpenStage 60/80
Länge
Inhalt
Grundfunktionen
 Video
04:17
 Video
03:56
Gesamtüberblick
Anrufen
 Video
02:31
 Video
02:01
Drei Möglichkeiten, um anzurufen
Anruf entgegennehmen
 Video
00:43
 Video
00:42
Verschiedene Möglichkeiten, einen Anruf entgegen zu nehmen
Gespräch beenden
 Video
00:33
 Video
00:34
Verschiedenen Möglichkeiten, ein Gespräch zu beenden
Headset verwenden
 Video
00:45
 Video
00:54
Anrufen, Anruf annehmen und Gespräch beenden bei Verwendung eines Headsets
Komfortfunktionen
 Video
10:15
 Video
10:18
Gesamtüberblick
Gespräch halten/wiederaufnehmen
 Video
01:27
 Video
01:28
Gespräch über Menü oder programmierbare Tasten halten/wiederaufnehmen
Konferenz einleiten
 Video
01:32
 Video
01:49
Konferenz über Kontextmenü einleiten
Gespräch übergeben
 Video
04:02
 Video
03:51
Drei Möglichkeiten, ein Gespräch zu übergeben
Anrufumleitung programmieren
 Video
02:05
 Video
01:50
Anrufumleitung mittels vorab festgelegter Rufnummer programmieren,
Anrufumleitung ein-/ausschalten
Weiterleitung beim Läuten
 Video
01:33
 Video
01:45
Anruf während es läutet weiterleiten, mittels programmierbarer Tasten auf Voicemail weiterleiten
Erweiterte Funktionen
Aus Anruferliste anrufen
geplant
Ruflisten für verpasste, gewählte, erhaltene und weitergeleitete Anrufe
Audio-Features
geplant
Stummschaltung, auf Headset/Hörer umschalten
Funktion auf Taste speichern
geplant
Web-based Training
Web-based Training gives the user full choice and flexibility to learn how to use OpenStage phones at their own pace.Start the training just by clicking one of the links below, or download  the training directly to your PC or company server to start from there.
15-p.jpg
OpenStage 15

OpenStage 40

OpenStage 60/80
SIP
End-User Training (Standard)
 Link to WBT
End-User Training (Premium)
 Ordering Info
Training for Admins
  Link to WBT
HFA

End-User Training

HiPath 2000, HiPath 3000, OpenOffice

N/A

End-User Training

HiPath 4000

N/A

Training for Admins

All HFA platforms
Download area
All Web-based Training courses can be downloaded and installed locally.
How to do?
Download and Save the zip container on your PC / server
Unzip the folder
Access the index.html file using your browser
For web access make sure that a webserver (e.g. Apache) is running
SIP

  SIP Administrator Training

  SIP Administratoren Training

  End-user Training (standard) OS 15 /

 End-user Training (standard) OS 15

  End-user Training (standard) OS 40 /

  End-user Training (standard) OS 40

  End-user Training (standard) OS 60-80 /

  End-user Training (standard) OS 60-80
HFA

  HFA Administrator Training /

  HFA Administratoren Training

HiPath 4000

  OS40 @ HiPath 4000 End User Training /

  OS40 @ HiPath 4000 Anwendertraining

  OS60-80 @ HiPath 4000 End User Training /

  OS60-80 @ HiPath 4000 Anwendertraining
HiPath 2000, HiPath 3000, OpenScape Office

  OS40 @ H2k, H3k, OpenScapeOffice End User Training /

  OS40 @ H2k, H3k, OpenScapeOffice Anwendertraining

  OS60-80 @ H2k, H3k, OpenScapeOffice End User Training /

  OS60-80 @ H2k, H3k, OpenScapeOffice Anwendertraining