OpenStage M3
The Wiki of Unify contains information on clients and devices, communications systems and unified communications. - Unify GmbH & Co. KG is a Trademark Licensee of Siemens AG.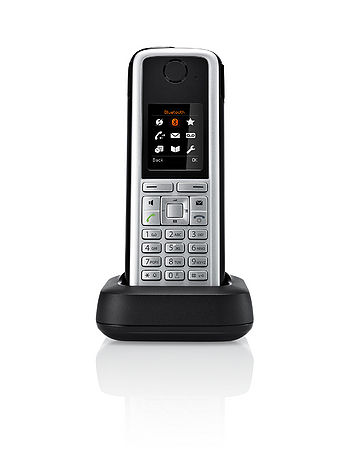 The OpenStage M3 DECT handsets are a family of wireless devices designed to perform in harsh environments. The family comes with variants covering different alarm options and also use in potentially explosive environments where moisture, dirt, shocks or high ambient noises could compromise communication quality. With its device protection class of IP65 it suited perfectly for these scenarios. Although the OpenStage M3 family is designed for these environmental conditions, it looks exquisite with its large 1.8" TFT color display and with an up to date user interface. As well as great style, it offers optimum functionality, with excellent voice quality optimized for noisy environments, Bluetooth interface and its black/silver color.
The OpenStage M3 handsets are the successors of the Gigaset M2 professional handsets.
Models
The OpenStage M3 DECT handset family consists of the following variants:
OpenStage M3 – DECT handset; with integrated basic alarm functionality (e.g. alarm button)
OpenStage M3 Plus – DECT handset, with integrated advanced alarm features (e.g. no movement-, man down- alarms)
different chargers and accessories

The DECT handsets from this family designed for use in explosion hazard areas will be provided in a second phase.
Key Features
The following table provides an overview. This list is not exhaustive. Please refer to the detailed operating instructions for more information.
Mobility Features
Multi-cell capability
Seamless connection Handover during a call
Bearer handover in case of disturbances
Display message when leaving the radio network
Security
Encrypted voice transmission regarding DECT standard
Secure system logon
Multi-DECT system capability option for parallel registration of the OpenStage M3 up to four DECT systems
Feature description of the OpenStage M3
Keypad
Illuminated keypad
MWI (Message Waiting Indicator) key
5-way navigation key
Keypad lock on/off
Key for all ringers off
Talk key functions:

when pressed briefly: redial list
when held down: dial state

Free programmable Display-key
2-way side key for simple volume control during a call
Case
Case Protection Class IP65
Protection against water jets
Protected against dust
Shockproof, unbreakable case
Silicon-free case surface
Sturdy carrying clip
Display
Illuminated graphical display
brilliant TFT display, 65k color, 128*160 pixel resolution
Color scheme and screen saver settings
Display of fonts and symbols in different situations in large fonts
Configurable timeout of the display
Display-Languages of the Handset (26 languages):
German, English, French, Italian, Spanish, Portuguese, Dutch, Danish, Norwegian, Swedish, Finnish, Czech, Polish, Turkish, Greek, Hungarian, Russian, Croatian, Slovenian, Roman, Serbian, Catalan, Bulgarian, Bosnian, Ukrainian, Arabian
Display in idle state
Status display:

Battery charging
Received field strength
Ring tones off
Warning tone on
Keypad lock on
Bluetooth activated

Local editing of base station name
Notices of (Display-indicate with the first off hock):

own call number
Date and time
Screensaver
Picture out of media pool store

alternative to pictures: analogue or digital clock

Screensaver replaces the notices in idle
Settings
Handset is preset
Individual settings

Fast access on functions and numbers
Assignment of numeric key/ display key
Display: Language, Color-Schema, Contrast, Illuminating, Screensaver
Automatic Call acceptance on/off
handsfree-/earpiece volume
ring tones, melodies
Media Pool administered:
Monophonic ring tones (Sounds)
Polyphone melodies (Sounds)
Pictures for Screensaver
Alarm clock
activated/deactivated
Period: Monday – Friday or daily
Wake-up call is signaled with selected Sound
Appointments (Calendar)
They can remember let up to 30 appointments

Appointments of the day are indicated,
Appointment can be supplemented with text,
Appointment call is signaled with selected Sound,
Indicated text, date and time are indicated.

List of missed appointments
Phone book
Storage possibility of the directory

Up to 500 entries for all directories
Fast access on a number (speed dialing)
Up to three phone numbers with accompanying name, surname (private/office/mobile), e-mail address, appointments with signaling, VIP-notation, CLIP pictures

phone book administration via PC (Gigaset QuickSync = PC application)

via Bluetooth-Interface
via Mini- USB interface

Saving/loading phone book data from/to HiPath Manager (HiPath Cordless Enterprise)
Access to System phone book

LDAP system telephone database (only with HiPath Cordless Office/HiPath Cordless IP)
HiPath Manager (HiPath Cordless Enterprise)
Message signaling
Illuminated MWI (Message Waiting Indication) key alerts users of new messages
Signaling of the new message through press the MWI-key
Call signaling
Automatic call acceptance when the handset is removed from the charging unit (configurable)
Silent alarm (vibration alarm)
Visual/acoustic call signaling
Display of call number and caller name
Distinction between internal and external calls
Ring tones and melodies:

5 standard ringer tones
15 polyphonic ringer melodies

Ring tones can be deactivated while attention tone is activated
Setting of different ringers for internal and external calls
Volume can be set in 5 steps plus crescendo
Handset lock
Battery
Lithium-Ionen battery pack
capacity: 1000mAh
a battery pack is supplied with the phone
Charging

in power-off mode
in power-off mode with activated PIN protection
in operating mode

Low battery warning tone (configurable)
Headset 1
Headset connection via:
Corded: 2,5 mm jack
Cordless: Bluetooth
Tested Corded- Headsets:

Jabra/GN 2000 Duo NC
Jabra BIZ 2400 Mono 3-in-1
Jabra BIZ 1900 Mono

Tested Cordless (Bluetooth)- Headsets:

Jabra Supreme UC
Plantronics Voyager PRO UC V2
Accessories (e.g. carrying aids) 2

One Belt clip is supplied with the phone
PC Interface
Bluetooth, Mini- USB
Bluetooth Specification: V2.1, the following profiles are available:

Headset-HSP, Data-SPP, Handset-HFP, Object-Push- profile OPP
PC Application
Gigaset QuickSync

Phone book synchronization
Loading from Screensaver, CLIP-pictures, melodies and ringer tones
Compatible with HiPath Positioning System (HPS)
Localization of mobile users (only with HiPath Cordless Enterprise) using HiPath Positioning System
PC-Software (Gigaset QuickSync)
---
remark to 1 2
Alarm Features
Basic Alarm Features (for all OpenStage M3 models)
Alarm button with optional different behavior by long- and short press
Alarm monitoring by an LED at the front of the handset
Up to 3 preconfigured alarm numbers
Automatic call with alarm
Acoustic signalization (emergency signal) at alarm location
Automatic alarm generation if handset is out of range/switched off or battery level is low
Configurable key lock (including or excluding alarm button)
Alarm configuration protected by a Service PIN
Location information of handset with alarm
Advanced Alarm Features (for OpenStage M3 Plus)
All the basic alarm features
No movement-, man down-, time-, escape-, technical- and pull cord- alarm
Each alarm type can use an own alarm number
Configurable pre-alarms
Advanced alarm scenarios w/ and w/o Alarm-Server, e.g. OpenScape Alarm Response Server (OScAR)
Connectable Devices
The OpenStage M3 handset can be connected to the following systems:
HiPath Cordless Enterprise from V3.38.0-CV415
This HiPath Cordless Enterprise version is released from HiPath 4000 V2

Adaptations only for SLC24
HiPath 3000 & OpenScape Business
HiPath Cordless Office
HiPath 3000 from V9 R2.4.0_047
OpenScape Business from V1

Adoptions only for SLC16N and SLCN
OpenScape_Office & OpenScape Voice
Tests using predecessor releases of the systems were not carried out. The use of the handset in earlier system-versions should be possible, but functional restrictions may occur.
The following Gigaset QuickSync Software is supported:
Gigaset QuickSync from 8.3
Technical data
standard battery type (supplied with the phone)

1 * Lithium-Ionen battery pack 1000 mAh

Dimensions

Handset 154 x 56 x 26 (H × W × D in mm)
Weigth (incl. batteries) approx. 166g
Charging unit 89,5 x 86 x 36 (H × W × D in mm)
Documentation and Training
Information
See also