OpenScape Desk Phone IP (HFA) Release Notes
The Wiki of Unify contains information on clients and devices, communications systems and unified communications. - Unify GmbH & Co. KG is a Trademark Licensee of Siemens AG.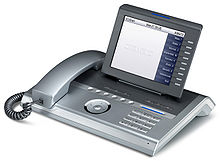 The OpenScape Desk Phone IP (HFA)Release Notes help you to find, in descending order:
New implemented features
Corrected bugs
Known and still open issues (eventually with workarounds)
for each specific OpenScape Desk Phone IP (HFA) software version considered.
Software versioning / naming
A new software versioning scheme was introduced, it requires that a new versioning name should be adopted for each software product.
Software product version will be now identified with the string:
V x[.y] R m.f.h
in which field:
x[.y] denotes the Major release level
m denotes the Minor release level
f denotes the Fix release level
h denotes the Hotfix level
This naming convention scheme does not imply any naming requirements for file / files available.

More informations on the New Software Versioning scheme wiki page.
OpenStage / DeskPhone IP (HFA) V3
What's New?
General information HFA V3
What's New?
Area
Summary
New HFA Workpoints
The OpenScape Desk Phone IP 35G / IP 55G phones (DPIP35/55) represent a new generation of desk phone with completely new physical housing.

Main differences OpenScape Desk Phones to OpenStage:

New functional optimized industrial design, available either with text or icons on the keys and in two colors (for icon variant)
Headset port available for OpenScape Desk Phone IP 35G
Easier navigation for OpenScape Desk Phone IP 55G by Soft-keys
Features same as comparable OpenStage IP phones, so that mixed configuration can be smoothly supported (same Software)
Due to design optimization, OpenScape Desk Phone IP 35G can be offered to a lower price, than comparable OpenStage IP phones

Functionality
LDAP on OpenStage 15/20/40 and on OpenScape Desk Phone IP 35G. This feature provides user access to centralized (corporate) directories on LDAP base direct on OpenStage 15/20/40 and on OpenScape Desk Phone IP 35G.
Functionality
Local Phone Book on OpenStage 15/20/40 and on OpenScape Desk Phone IP 35G. This feature provides user access to a local phone book direct on OpenStage 15/20/40 and on OpenDesk Phone IP 35G. The local phone book is restricted to 100 entries. Each entry (contact) consists of three attributes: last name, first name and number. Editing of a contact can be done locally or via WBM interface.
Functionality
Support of Bluetooth Hands-free Profile (HFP).
Usability
Distinctive Ringing (providing different ring tones). A new node called "Ringer" is placed at the User menu, this will have two sub-nodes, one allowing the user to set the mode (local or Hipath) and the other giving access to list of configurable local (distinctive) ringers.
Usability
Volume Indicator

This feature introduces audible feedback of changes made to ringer volume (while the phone is not involved in a call) for OpenStage 60/80 and OpenScape Desk Phone IP55G.

License Issue
Replacement of 3rd Party H.323 Stack. With the Version HFA V3, the current implemented 3rd party H.323 stack is replaced by a stackless solution as well as with an Unify own compatible H.323 stack. For SME was decided to abandon H.323 protocol and extend CorNet protocol. This was introduced with V2R1 HFA to support OpenScape Business. The Unify own H.323 stack is backward compatible with former 3rd party H.323 stack.
License Issue
Downgrade Protection to avoid a download with HFA Phone Software containing former 3rd party H.323 stack
License Issue
OpenStage 60: Removing and Replacing Java

As already done for SIP, with V3R0 HFA, the Java based functionality was replaced by existing phone application software (e.g. XML parser for the XML generic application platform).

Security
Linux Kernel Upgrade

To keep up-to date with recent kernel development, as well as getting security fixes and bugs corrected, a kernel upgrade was done for the Unify HFA Desktop phone family.

Security
SHA-2 for digital signatures / certificates. The phone supports the SHA-2 family of hash functions (in addition to SHA-1):

SHA224,
SHA256,
SHA384 and
SHA512.

A certificate signature encoded using any of these algorithms can be handled.

Security
MTLS based device authentication

The phone supports client certificates for mutual authentication (when the server also authenticates the phone) of selected secure interfaces. A client certificate identifies the device (not current user) to the server.

Security
Configure USB port

A new Admin level local menu only item is introduced with this Version to disable the USB port at a low level.
V3 R0.16.0
Fixed Bugs