OpenScape Desk Phone CP G2
The Wiki of Unify contains information on clients and devices, communications systems and unified communications. - Unify GmbH & Co. KG is a Trademark Licensee of Siemens AG.
!Under construction!
OpenScape Desk
Phone CP110 G2 (SIP & HFA)





The new Desk Phone Generation
Unify has created the second generation of devices, which continues the current OpenScape Desk Phone CP device family. The result is a clear device design and a user interface with relevant features combined to meet a broad set of use cases in a concentrated family of desk phones. A numerous interoperability options were also added for a seamless integration into a modern digital workplace. The OpenScape Desk Phone CP G2 family of phones brings feature evolution and updated capabilities such as:
Elegant and ergonomic device design
Innovative and intuitive user interface
Improved device security
Energy efficiency

Connectivity and Compatible Products
OpenScape Desk Phone G2 with SIP Software:
from OpenScape Voice Solution V9
OpenScape Desk Phone G2 with HFA Software:
from OpenScape Business V3R2
OpenScape 4000 V8R2 (release in preparation)
from OpenScape 4000 10R1

Easy to use
These design and technology enhancements in combination with their ease of provisioning, configuration and management serve to simplify operational activities and reduce the cost of ownership.

Meeting the needs of modern organizations
Equipped with a wide range of capabilities, this family of devices deliver the functionality required to provide for the broadest range of organizational use cases, applications, and needs.

Intuitive and economical with a small footprint
The ergonomic design and user-friendly familiarity of the OpenScape Desk Phone CP G2 family means they can be quickly and easily deployed and used with low friction adoption.
Phone range
For most customers and many scenarios, the desk phone is still the preferred device for voice conversations. Users want instante, enterprise grade communication while organizations want cost effective, secure choices.
But today's customers, who see value in desk phones, want them to participate differently. They want to make the most of voice communication in the new way to work and where appropriate, have them play a more active role in the digital workplace.
Model Overview
By thoughtfully focusing on primary features, we've condensed the new phone family into a concentrated portfolio that still meets a broad set of user scenarios. It's an easier to manage, cost effective set of devices with user focused features.
OpenScape Desk Phone CP110: The ideal device for entry level workplace scenarios without compromise in quality.
Feature Overview
For Details please scroll down
OpenScape Desk Phone CP110 (SIP & HFA)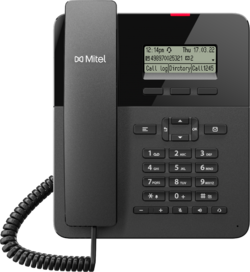 OpenScape Desk Phone CP110
The OpenScape Desk Phone CP110 is the ideal device for entry-level workplace scenarios. It has a large display, a headset connector with DHSG/EHS functionality, two fixed function keys and three soft-label keys. These soft label keys can be configured as function-, name or line keys. It also includes an internal Gigabit Ethernet switch and supports the SIP / HFA protocols. In addition, it is wall-mountable with a wall mounting kit. It also supports two stand position options that are suitable for many desktop needs.
Display
Graphical three-line display (162 x 48 pixels), monochrome
Signaling LED (red)
Keys
3 freely programmable function keys with Soft Label on LCD Pre-assignment: call log, forwarding, redialing
2 fixed function keys: settings, messages
3-way navigator plus OK key
3 audio function keys (mute/loudspeaker)
Volume +/-
Open listening/hands free speaking (full duplex)
Placement
Base, two different placement angles
Wall mountable
Main differences to the other models
| | | | | |
| --- | --- | --- | --- | --- |
| | CP110 | CP100 | CP200 | CP205 |
| Headset Connector | Yes | No | Yes | Yes |
| Hook Switch | Optical | Mechanical | Mechanical | Mechanical |
| Integrated Switch | Yes (max. 1000 Mbit/s, Gigabit) | Yes (max. 100 Mbit/s) | Yes (max. 100 Mbit/s) | Yes (max. 1000 Mbit/s, Gigabit) |
| Wideband Codec | Yes (G.722 and OPUS) | No | Yes (G.722) | Yes (G.722) |
| TLS encryption key length | Max. 4096-bit RSA key length | Max. 2048-bit RSA key length | Max. 4096-bit RSA key length | Max. 4096-bit RSA key length |