HiPath MobileConnect
The Wiki of Unify contains information on clients and devices, communications systems and unified communications. - Unify GmbH & Co. KG is a Trademark Licensee of Siemens AG.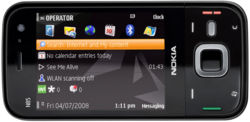 HiPath MobileConnect works in conjunction with the corporate SIP infrastructure and the wireless LAN (WLAN) to enable communications over dual-mode handsets on both the enterprise wireless LAN (WLAN) and the public mobile network.
Users benefit from true one-number service and transparent roaming between networks which improves employee productivity and reachabilty. IT managers benefit from greater control over mobile phones and communication costs.
Using a DualMode mobile phone with HiPath MobileConnect
First you have to install the software   SIP_VoIP_3_x_Settings_v2_0_en for Symbian operating systems.
See   SIP_VoIP_Settings_User_Guide_for_Nokia_S60_VoIP_Rel_3_v2_0_en for using this application.
Please follow this configuration hints: Setup a Nokia Eseries phone as SIP client on HiPath OpenOffice ME.
See also