ENB on optiPoint phones
The Wiki of Unify contains information on clients and devices, communications systems and unified communications. - Unify GmbH & Co. KG is a Trademark Licensee of Siemens AG.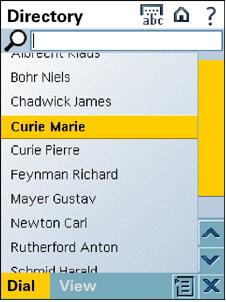 Scope
Electronic Notebook (Personal directory) is the most often used application on phones. The contact data are stored locally and can be synchronized with PC based directories. Directoty entries can be accessed directly by pressing the appropriate letters on the keypad.
For each entries 10 attributes can be stored. For up to 20 entries an additional voice-sample can be recorded for voice dialing.
For synchronisation with PC directories, like Microsoft Outlook a special tool can be downloaded here.
Number of entries:
oP 410 / 420 : 640
oP 500  : 1000
Documentation
Ressources
How To's
Related links